MCSnet Public Wi-Fi Hotspots & Partnerships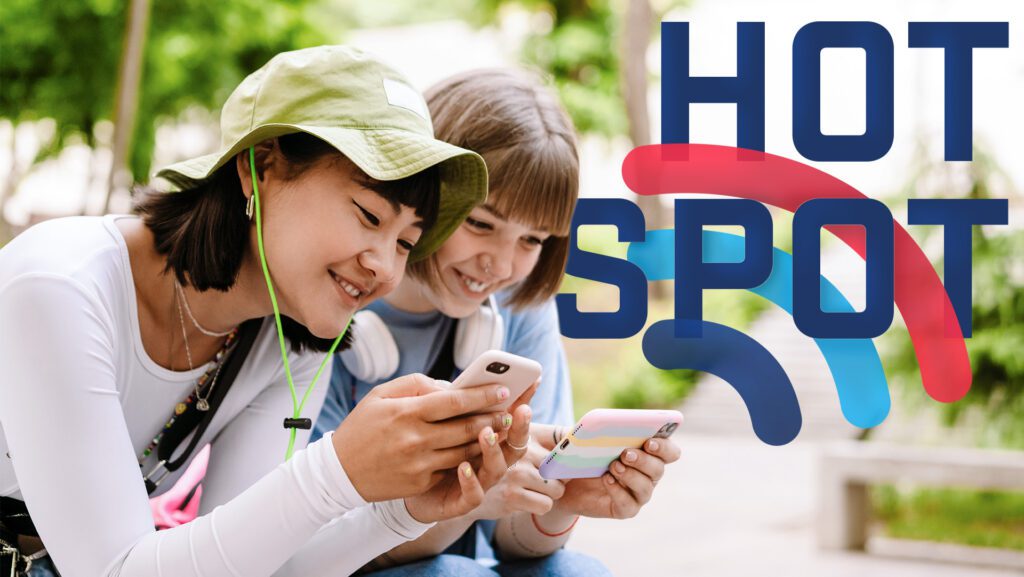 Fast rural Wi-Fi does more than keep you connected—it helps you live a life with no boundaries. At MCSnet, we believe you deserve access to reliable and affordable internet everywhere you go. With this in mind, we've partnered with local non-profits and municipalities to grow our Wi-Fi hotspots.
You can connect almost any device to our MCSnet hotspots, including smartphones, laptops, and tablets. Our network delivers super-fast speeds, so you can easily surf and explore the internet on the go. Whether you're at the hockey arena, taking your kids to swimming lessons at the pool, or in the ski chalet at Kinosoo Ridge Snow Resort, we want to give you the freedom to go about your busy day.
What is a Wi-Fi hotspot?
A Wi-Fi hotspot is an access point connected to a gateway or router linked to the internet. These hotspots transmit an internet connection using special wireless equipment, allowing you to connect your devices, including your phone. Worrying about your cellular data is no longer an issue. You can set your device to automatically connect to our free Wi-Fi service whenever you enter an MCSnet hotspot area.
What are the benefits of a free public hotspot Wi-Fi area?
Non-profit organizations and municipalities know that offering free Wi-Fi hotspot areas can empower their communities. They create affordable and accessible internet for everyone.
Providing public Wi-Fi access can have a significant impact on tourism. When travelling, people want to stay in contact with their family, friends, or work colleagues without worrying about roaming charges or going over their cellular data.

Students can complete their homework assignments while waiting for their next swimming lesson or hockey practice.

Public Wi-Fi for our seniors in lodge settings keeps them meaningfully connected. Older adults are accessing the internet for social media, entertainment, shopping, and even remote medical visits. Seniors today expect connectivity when transitioning from a home to a lodge environment.

Free wireless services increase digital inclusion. Whether you're taking an online course, checking in with work remotely, or making a virtual call around the world, providing free public internet helps those who live in underserved areas.
These are just some of the ways free Wi-Fi hotspots can improve the quality of life for people and benefit all of our communities.
How do I connect?
MCSnet Wi-Fi gets you online when you're on the go. Look for our sign in public areas.
On your device, go to settings or the network icon. Select MCSNET FREE from the available networks, enter the password-free wifi and connect. You can save this network to automatically join the next time you visit that location or anywhere you may be entering one of our free Wi-Fi areas. Please read our Terms of Service for more information.
Is there a fee to access it?
MCSnet hotspots are entirely free. You don't have to be an MCSnet customer. We're committed to delivering the best network experience possible, which means creating a community where there is no digital divide. We believe in providing accessible and affordable internet across rural Alberta.
Is it secure?
Always ensure you're joining the correct SSID (service set identifier). At one of our hotspots, look for our SSID MCSNET FREE in the list of available networks that appear on your device. At MCSnet, we take your digital security and privacy very seriously. As always, we recommend refraining from entering sensitive personal data and exercising good digital citizenship whenever you are online. Some helpful tips:
Don't access your personal or financial information.

Log in or send personal information only to websites you know are fully encrypted. Look for a lock icon near your browser's location field. The lock symbol and the related website address containing "HTTPS" mean that the connection between your web browser and the website server is encrypted.

Don't stay permanently signed into accounts.

Don't use the same password on different websites.

Pay attention to warnings.
Where are MCSnet hotspots located?
We partner with non-profit organizations and municipalities to offer free public Wi-Fi in areas that make sense. Check out this list of free public Wi-Fi hotspots:
MD of Bonnyville
Kinosoo Ski Ridge Snow Resort (chalet area)
Town of St. Paul
St. Paul Aquatic Center
Clancy Richard Arena
CAP Arena
St. Paul Curling Rink
St. Paul Golf Course
St. Paul Senior Citizens Club
The Royal Canadian Legion St. Paul Branch
Iron Horse Campground
Reunion Station
Overnight Campground
St. Paul Visual Arts Centre
Village of Vilna
Vilna Agri-Plex
Vlna Cultural Centre
Vilna Lodge
We're always adding new MCSnet hotspots across rural Alberta. Follow us on social media to stay up to date on where we're launching our latest locations:
How can our municipality or non-profit organization secure a public hotspot for free public use?
At MCSnet, we look at the bigger picture. Our goal is to grow internet connectivity in our service area, but we also believe investing in our communities will advance connections and create a more thriving world. Every day, we work to remove the digital divide and help our communities to become on par with our more urban neighbours.
Accessibility comes down to continually improving our impact and contributions to our service area. To drive this goal, we welcome the opportunity to explore partnerships that enhance our communities. We consider all mutually beneficial solutions, including free Wi-Fi hotspots for non-profits and municipally-owned locations. Learn more about our Municipal Partnerships program and sign up today.