Connecting Rural Alberta: Métis Crossing is a Gem for Northeastern Alberta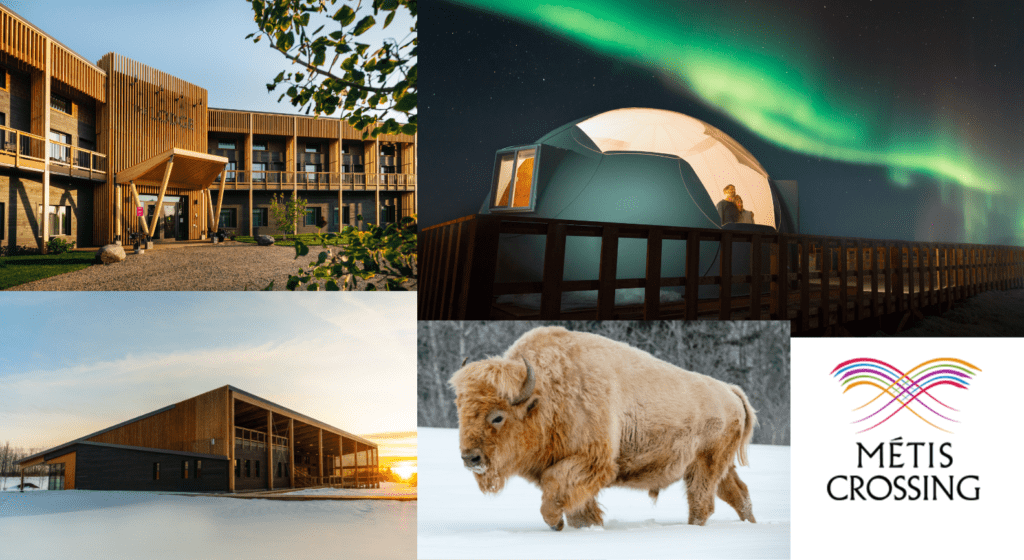 Premier Alberta Tourist Destination
Métis Crossing is a premier tourist destination in rural Alberta where the history of the Métis people and their distinct indigenous culture is shared through hands-on learning and experiences. Métis Crossing is situated off HWY 855, east of the Smoky Lake bridge, about 1.5 hours northeast of Edmonton, Alberta, Canada, in Treaty 6 territory. We are proud to say that MCSnet built the Custom Fiber to provide connectivity to the facility.
This rural Alberta tourist destination is 688 acres of gorgeous land, consisting of traditional Métis River lots, that overlooks the North Saskatchewan River and is designed to excite and engage guests.
In this blog post, we will take you to this beautiful rural Alberta tourist destination and share the unique overnight accommodations and many activities exclusive to Métis Crossing. In addition to being a place of leisure, the Cultural Gathering Center is a scenic venue for private or corporate events.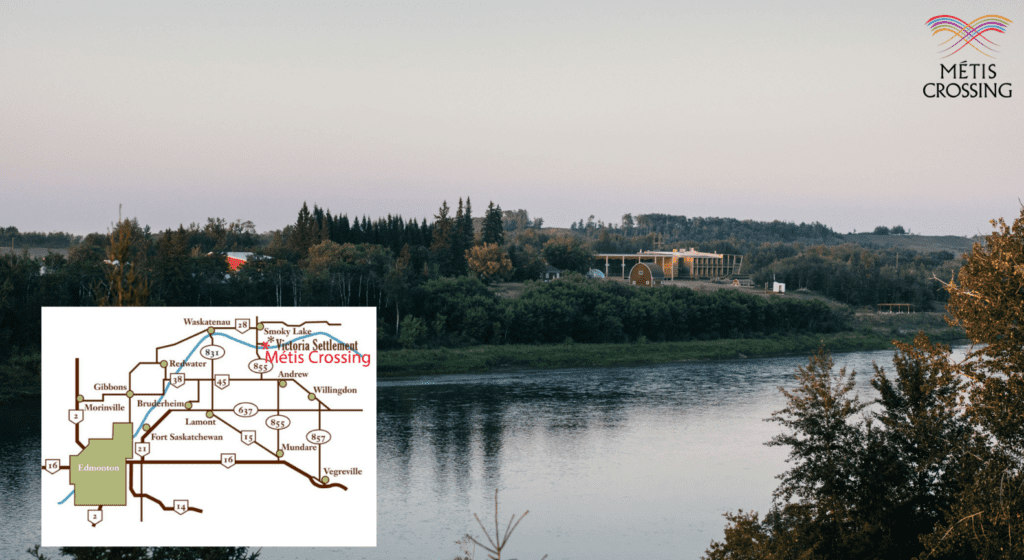 Overnight at Métis Crossing
This rural tourist destination overlooks the majestic North Saskatchewan River, and Métis Crossing offers guests the opportunity to stay in the 40-room boutique lodge, in traditional Trapper's tents, and at the campground. Also coming in the Spring of 2023 are new luxury Sky Watching Domes. Details on these exciting accommodations are below.
On the website for The Lodge at Métis Crossing, there are a few different room options; you can choose from a Family Suite that includes one queen bed and a double-twin bunk. If a guest faces any mobility needs, there are six Accessible Suites. There are also King Suites and an Executive Suite with ample space, perfect for a romantic getaway or a scenic meeting/team-building space.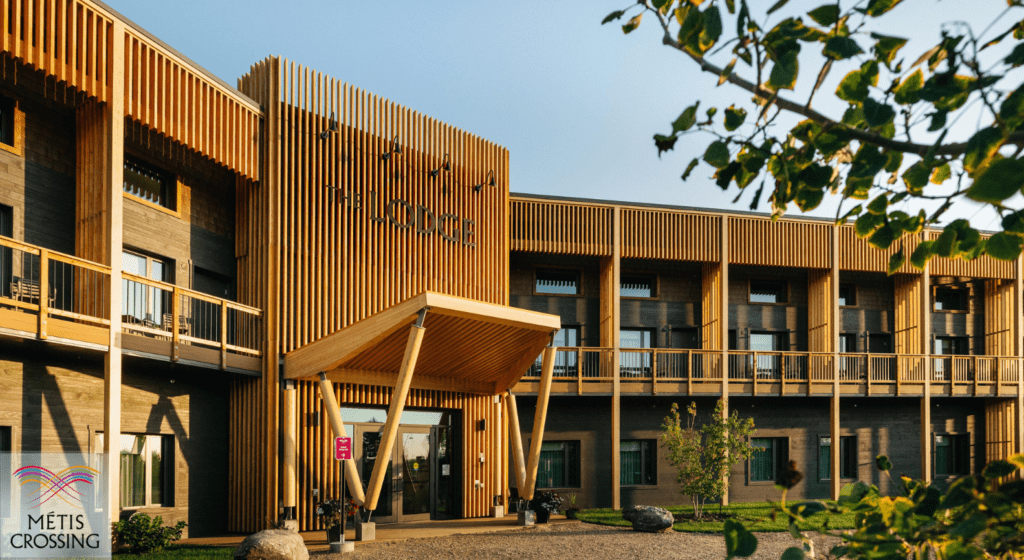 Camp Under the Night Sky
Métis Crossing is pleased to offer campers various options including RV sites, tent sites, and 'Glamping' in traditional trappers tents. The campground is conveniently located near the Cultural Gathering Centre, overlooking the majestic North Saskatchewan River.
Finally, this spring, the Métis Crossing will begin offering a new luxury accommodation option, the Sky Watching Domes at Métis Crossing. These unique luxury accommodation options will provide guests with an opportunity to connect with the night skies and the stars.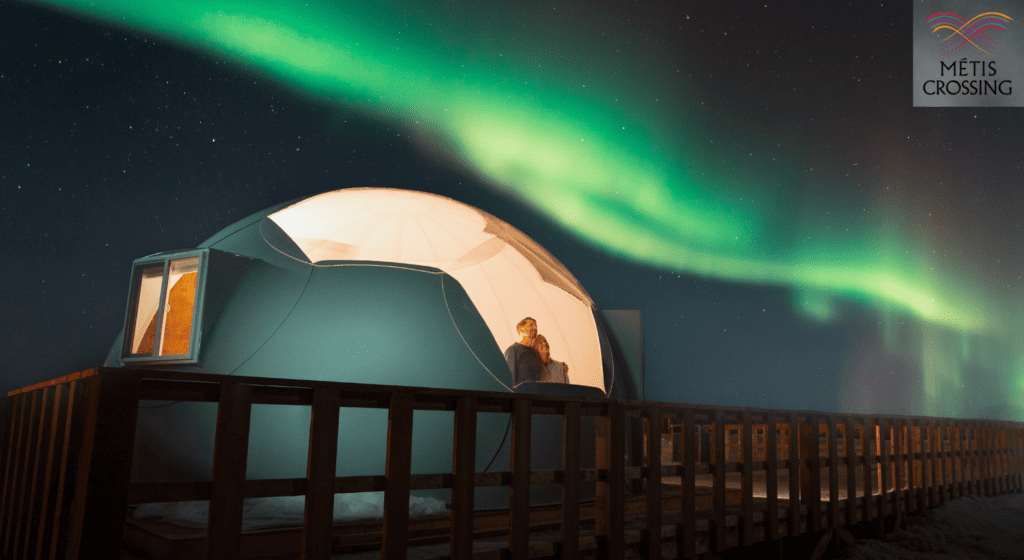 Explore the Traditional Métis Lands
Every day on these traditional Métis lands; there are numerous seasonal Daily Experiences included with the cost of general admission. It is vital to check Métis Crossing's social media for cancellations during winter for daily activities or registered experiences due to weather and snow conditions. You will find the links for social media pages at the end of this blog.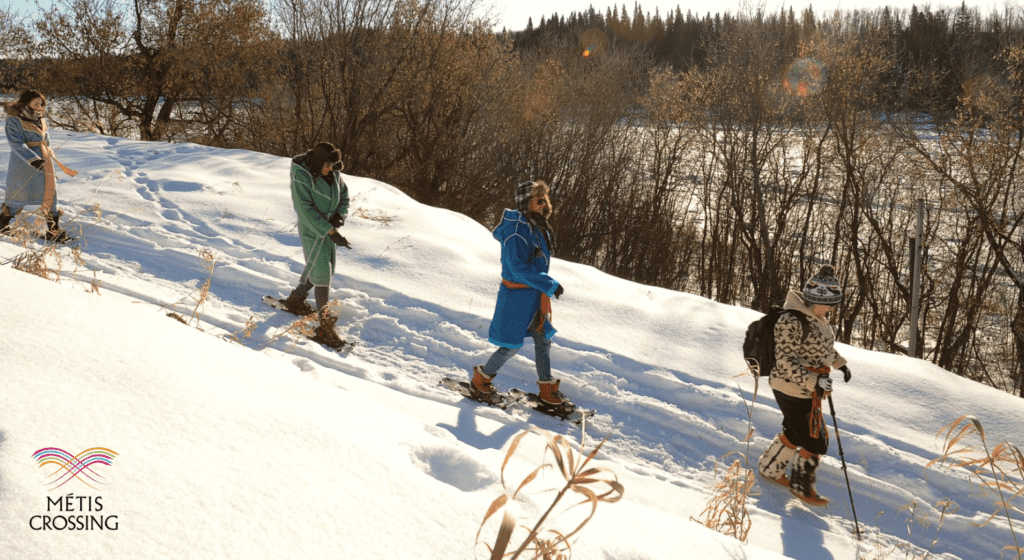 Guests are welcome to explore the Traditional Métis lands through its nature trails on foot or opt for cross-country skis or snowshoes to wander in the winter months.
While on your adventures at Métis Crossing, you will find interpretive displays, a historic village, and an Indigenous gift shop. Some more outdoor winter activities include snow tubing or skating on the outdoor riverside rink.
Craft A Traditional Métis Item
Are you looking for a fun and educational group activity? Register a small group for a traditional art workshop, encouraging cultural discussion and learning. The Traditional Art Workshops are held in the Métis Crossing Cultural Gathering Centre, where Indigenous inspired cuisine is available. These workshops can be specifically tailored for any group. The list of various workshops can be found on the website.
The Métis Traditional Art Workshops include crafting, sewing, beading, leatherwork, and much more. Participants will hand-craft an item to take home, and all supplies will be provided.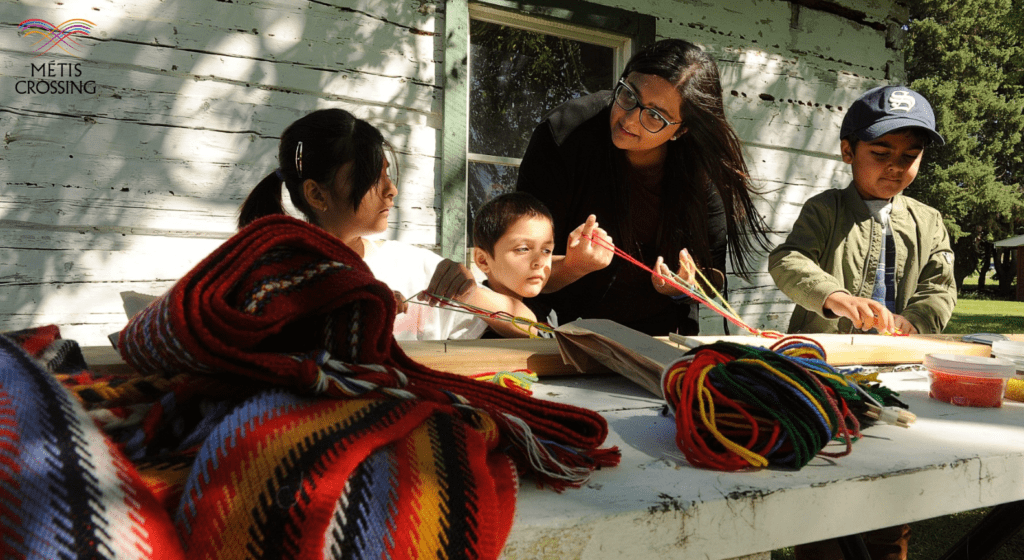 Interpretive Métis Guided Tours
Métis Crossing offers various interpretive experiential guided tours to fully immerse visitors in traditional Métis activities and skills. These seasonal Signature Experiences allow the opportunity to actively learn about the cultural significance of life on the land and the traditional Métis way of life. Below are a few options offered when posting this blog, so visiting Métiscrossing.com is highly recommended.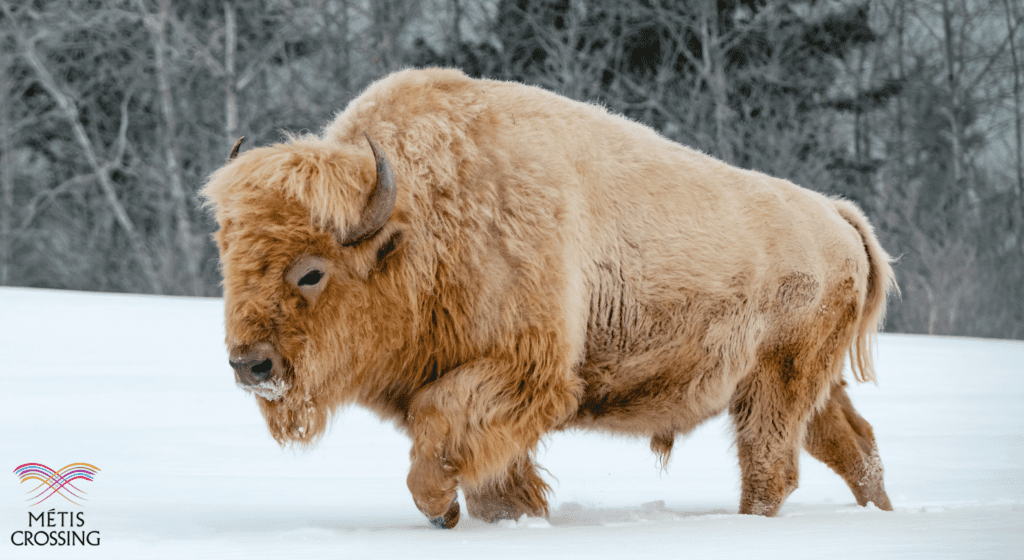 Visions, Hopes, and Dreams Wildlife Tour gives its participants a once-in-a-lifetime opportunity to gain an intimate view of the rare heritage animals like white bison, wood bison, plains bison, elk, and Percheron horses.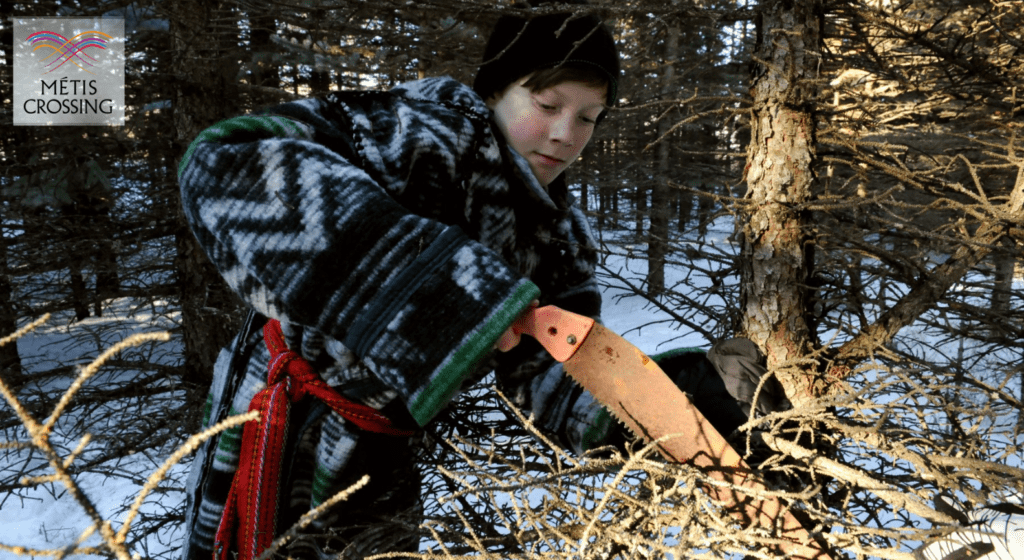 Tales from the Trapline explores winter activities in rural Alberta and allows participants an interpretive way to practice things like setting a snare, making traditional art, and building a survival shelter.
Other seasonal Signature Experiences in this rural Alberta tourist destination are Meet the Metis, Paddle into the Past, Through the Eye of the Hunter, and Whispers from the Stars. You can find the full details and registration costs on the website.
Celebrate at Métis Crossing
Métis Crossing celebrates special days and events with the community throughout the year. Some events are free to the public, others require registration, and there is a cost per person. Tickets and details are online. Visit MétisCrossing.com/signature-experiences for event details and stay connected on social media pages; links are below.
Some upcoming events you can find at Métis Crossing are:
Puppet Show event for families with children
Event to celebrate the opening of our cross-country skiing trails
Métis Crossing Day – Grand Opening of the Sky-Watching Pods
National Indigenous People Day
Outdoor theater "You Used to call me Marie."
Truth and Reconciliation Day event
Book Your Wedding or Corporate Function
The Métis Crossing is not only a destination for families and individuals to explore and reconnect to the traditional Métis people and their lands but a functional and scenic event space for large gatherings and celebrations.
The open-concept indoor and outdoor space at the Métis Crossing Cultural Gathering Centre is the perfect place to host any size private or corporate event right here in the heart or northeastern rural Alberta.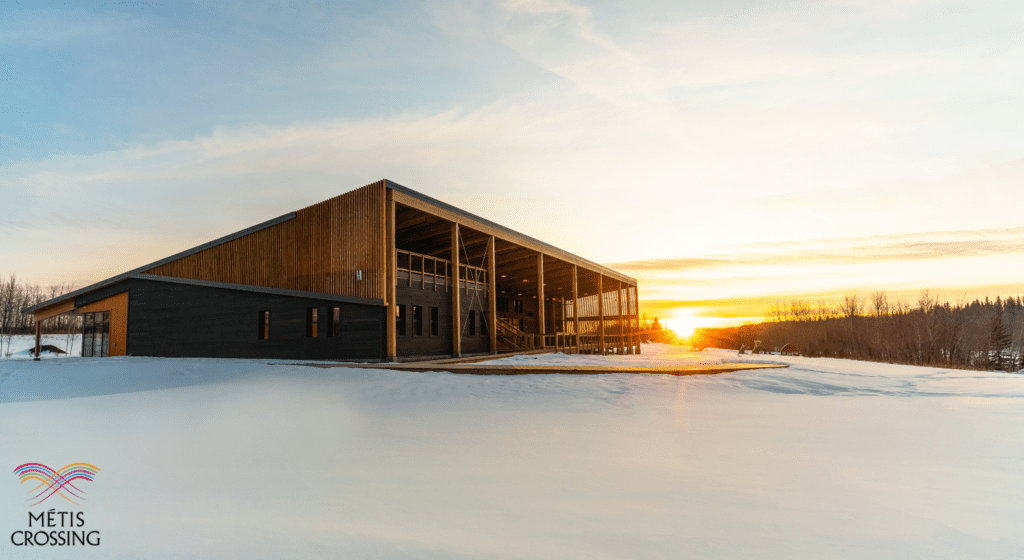 Métis Crossing Cultural Gathering Centre hosts cultural gatherings, corporate events, AGMs, trade shows, and weddings. You can see this event venue is in majestic location in rural Alberta, overlooking the North Saskatchewan River. You can find event FAQS on the website.
Stay Connected
Follow Métis Crossing on Facebook and Instagram to stay notified of the celebrations and activities. Visit the website regularly to find out about new and updated seasonal celebrations and events.