Community Connections: County of Lamont Food Bank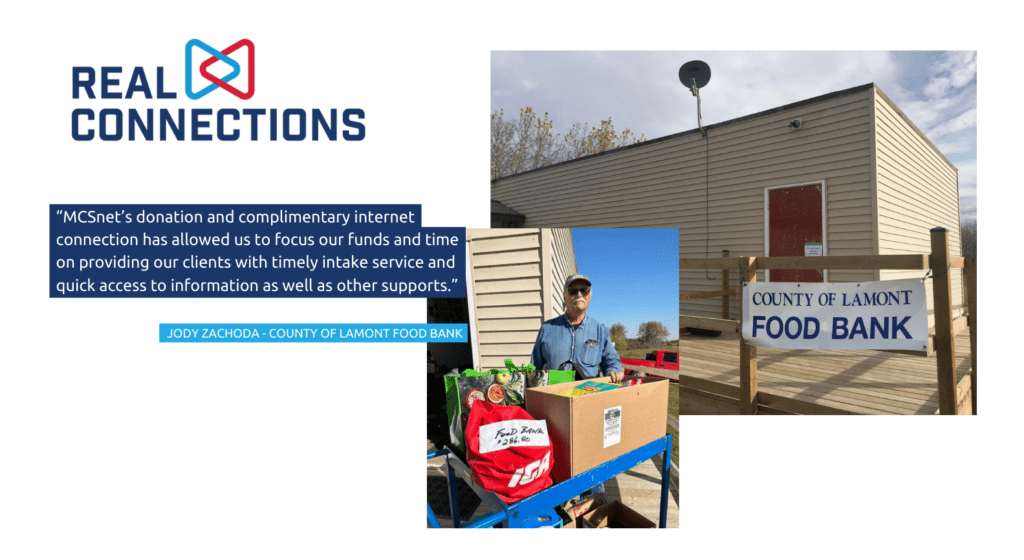 MCSnet is proudly connecting the County of Lamont Food Bank with free monthly internet services as a part of our Community Connections Program. Lamont, Alberta is located about 60 kilometers east of Edmonton, Alberta at the junction of Highway 15 and Highway 83. The County of Lamont Food Bank is dedicated to bringing supports of nutritious foods and any other important resources for individuals or families in need. 
This food bank is a 100% volunteer ran facility and is available for the municipalities surrounded by Lamont County including Bruderheim, Lamont, Mundare, Andrew, Chipman and some of Beaver County. If there is a family in need the County of Lamont Food Bank will be there to lend a helping hand and be a resource of love and support.
Potatoes from River City Hornets and MCSnet
MCSnet was able to sponsor the River City Hornets '07 U17 team, from Beaumont and area, for the 2023 softball season. As part of our donation, the girls from the team helped plant and harvest potatoes at Leblanc Farm in Leduc County. Once the potatoes were harvested they delivered and donated 273.68 kg of potatoes to a recipient of our choice: the County of Lamont Food Bank.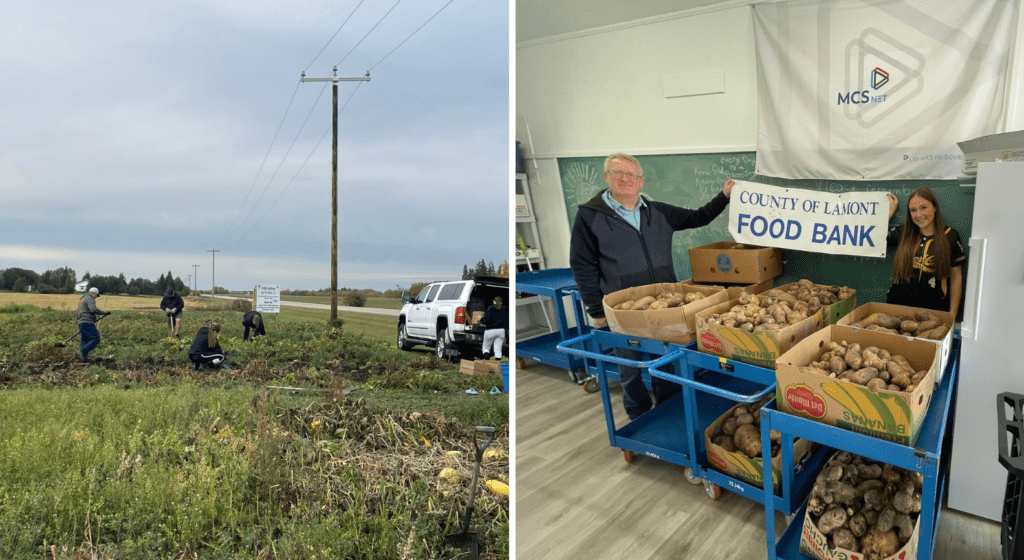 We thank Jody Zachoda, Board Chair and Director of Operations, from the Lamont Food Bank for providing us with some insight for this blog to share with you on how important the internet is to connect the food bank with the community.
What's your vision and mission as an organization?
Our Vision: Working together to create a hunger free community.
Our Mission: Providing access to sufficient, nutritious food in Lamont County in a caring, confidential and non-judgmental way.
How has MCSnet's donation and complimentary internet connection left a positive impact on your organization?
MCSnet's donation and complimentary internet connection has allowed us to focus our funds and time on providing our clients with timely intake service and quick access to information as well as other supports.
Why are you enthusiastic about helping Albertans?
We believe every Albertan deserves access to healthy food and community support.
In what ways has the internet opened up opportunities for your organization?
The internet has given us the opportunity to utilize a program called Link2Feed which helps us with statistical information and Food Banks Canada Hunger Count. This program also helps streamline our intake process and provide better access for our clients.
Can you tell us your favourite story about how you're making a difference?
My current favorite story is how our food bank has been able to provide Christmas hampers to approximately 120 households in our County with the donations that we receive every year. We work together with local businesses and community leaders to make sure that anyone who needs help has the opportunity to request a hamper. Our County Fire Departments help assemble and deliver them and last year we included our local mayors and county council members!
What does making real connections in your community mean to you?
Making real connections in our community means that no one is doing this alone! There are many helping hands available and willing to make a difference if you just reach out and ask. I personally find that most of the people who receive help at one time or another are very likely to return the favor or pay it forward when the moment arises.
If you had one piece of advice for organizations looking to improve connection in rural Alberta, what would it be?
Get out in the community and volunteer! Try an organization or event that piques your interest to start. If it isn't what you thought it would be, try another! Keep doing it until you find your people. Volunteering has always led me to new friends and many career connections!
Stay Connected
Go to the County of Lamont website and learn about ways you can help out as a volunteer, help collect non-perishable items or needed items, and/or provide financial supports. You can connect with the County of Lamont Food Bank on Facebook to easily stay updated.
To learn more about MCSnet's Community Connections program and to apply for Sponsorships/Donations or FREE internet for non-profits, click here.