What is GigAir?
MCSnet's GigAir uses Millimeter Wave technology and the power of its Fiber to the Tower to launch fiber-like speeds wirelessly throughout densely-populated communities, such as hamlets, villages, towns, and cities. Below is a chat with Travis Eddingfield and Mathieu Lajoie from our Gigabit Services department. They discuss how GigAir internet will impact and benefit our customers and what it will mean for your internet service options from MCSnet in the future.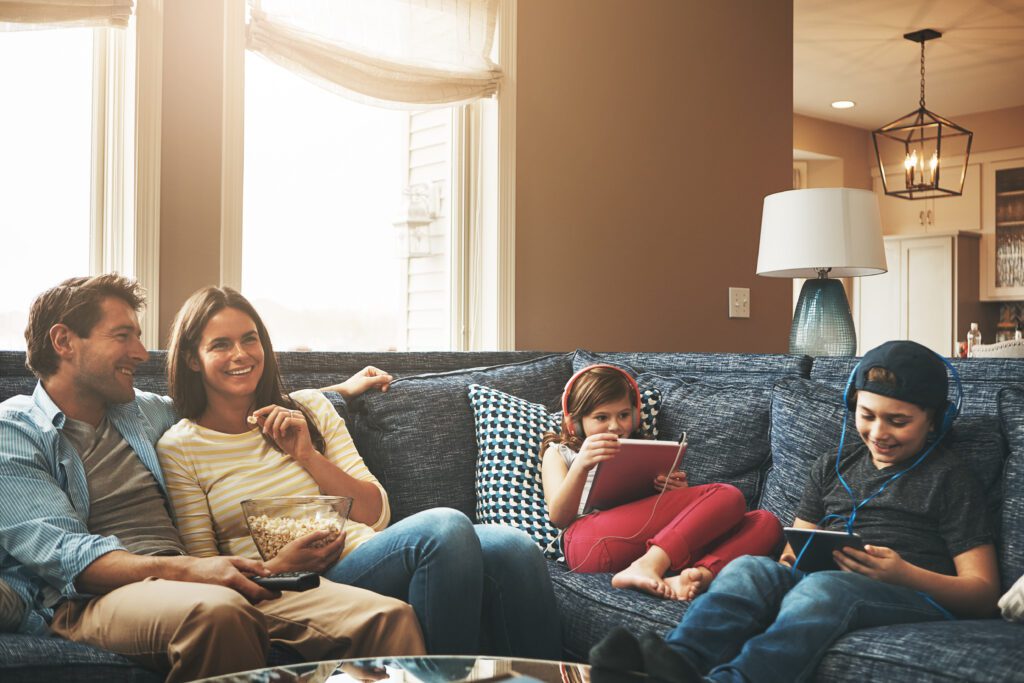 Q: First of all, what is GigAir internet, and how does it work?
Travis: GigAir is an alternative broadband option for accessing the internet. It uses specially designed radios to create a mesh network that operates wirelessly by connecting multiple nodes that are part of a 60 GHz self-organizing wireless network. It can support speeds of conventional fiber and faster. This also gives us the ability to have multiple paths to the internet, as opposed to older styles of wireless where it was radio to tower. This mesh-style network also has the ability to self-heal, meaning when one radio goes down for any particular reason, the network creates paths to avoid it until it is fixed and still provides service for the remaining units.
Mathieu: Using radios the same size as a tissue box we create a stable network that provides an alternative to fiber. This new technology is installed very easily and quickly, usually on the fascia of your home. The 60 GHz technology has bidirectional streams with the top up and down internet speeds of 1000 Mbps (Megabits per second) which makes it on par with our top Fiber1000 package. In comparison, a typical radio signal offers average speeds of 40 Mbps down/10 Mbps up.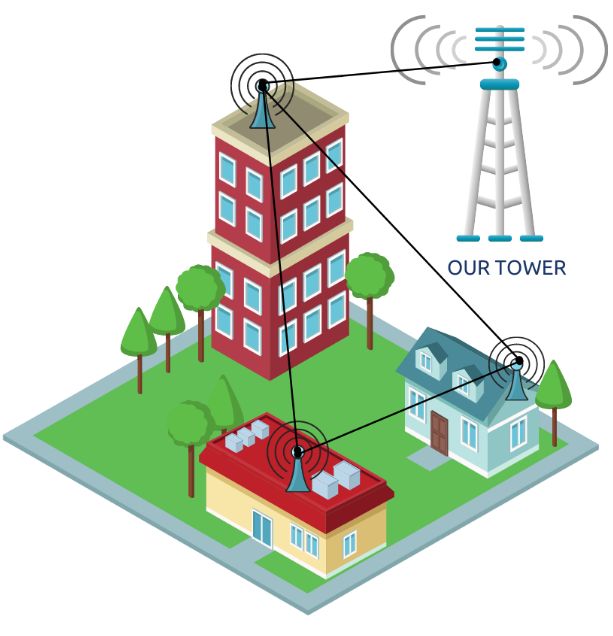 Q: What impact do you think GigAir will have on MCSnet as a company?
Travis: MCSnet is very proud that they were able to construct three FTTP communities (Mallaig, Cherry Grove, and Fort Kent), but fiber installation requires excavation to the ground and there is a limited construction season. Also, the future growth of a community can be difficult to plan and unforeseen expansions can occur. This can be costly and create difficult timelines to return to a community with additional fiber. Now with GigAir, we are able to expand into underserved areas with fiber equivalent speeds through the air. For example, with GigAir we can install two, 60GHz radios to cover a neighborhood or an industrial park with practically no expensive construction or limited timeline to complete the work. This translates into an easily scalable, inexpensive way to offer full fiber speeds via an air solution without having to disturb the ground or existing infrastructure. GigAir gives us that tool to fill in those gaps. As a rural-based business, I'm excited that we are able to offer a fiber alternative solution for our urban communities that makes economic sense. This new technology sets us apart from other providers in our area and puts our small urban communities on par with larger cities.
Mathieu: I completely agree and we can see that in effect already in some of our GigAir serviceable towns. They had fiber originally installed and then years later as neighborhoods expand portions of them don't have fiber or sometimes even copper DSL. Now we can provide an amazing upgrade to their internet in an efficient manner without having to disturb existing infrastructure such as paved parking lots.
Q: Why is GigAir internet so innovative in rural areas?
Travis: Increases in the number of devices per household, the popularity of streaming services, working at home, and learning at home—it is safe to say that over the last decade having a high-speed connection is no longer a "nice to have" but a requirement for living. Being able to provide fiber speeds over the air helps us meet this demand. It also allows us to be able to get access to locations that would be too difficult to run fiber to.
Mathieu: Broadband services have been providing the internet to rural areas for many years. Now we can simply do that better in our towns and villages. Any opportunity we have to ensure our rural areas can keep up with the internet from large cities is a good opportunity to keep equality of internet service throughout the province.
Q: How will GigAir be beneficial for MCSnet's current and potential customers?
Mathieu: When we bring fiber to our towers and into our communities, it strengthens the overall fiber backbone of our network. With the addition of GigAir we are able to offload some of the customers from the existing tower to the new mesh GigAir network. This in turn creates more access to the existing tower for other customers that perhaps might be more rural. With GigAir becoming available in more of our urban communities it helps to improve data capacity for all customers including the non-GigAir ones.
Travis: The benefit to MCSnet`s customers both present and future is that if you live inside of a town we have a way to give you the fastest speeds possible in a very quick time period. For example, The Five Star Trading Post in St. Paul was in need of an internet connection asap for their opening day! We were able to be there at 9:00 a.m. and get them a GigAir connection set up and running for their opening at 12:00 p.m. later that same day! There were no waiting weeks on end for a service call or any disruption of their existing infrastructure (i.e., parking lot).
Mathieu: More bandwidth means faster internet, lower latency, and less inconsistency due to the weather, which is great for businesses.
Mathieu: GigAir works off of our towers that have a direct fiber feed and expand out into a network of nodes. By having more transit fiber running into communities and towers, it will allow us to deploy more bandwidth in GB speeds without the costly excavating on a customer's property to connect them. That means we can deploy the technology to homes more efficiently and provide the same internet user experience on par with a traditional fiber-fed home. Even our customers that don't live close enough to a GigAir connection do benefit indirectly with this additional service. As we are able to add more customers to our GigAir service it creates more space on our towers and increases bandwidth for everyone.
Q: Why are you excited about the GigAir internet?
Travis: I am very proud to have a direct hand in implementing this new technology in our service area. I also use it at home and I understand the demands a typical household would need for an internet connection. My home has three kids and two adults that can sometimes be simultaneously streaming, playing, and working from our own devices. Being a gamer myself, I also appreciate having the fastest speed possible while maintaining low latency. A great example of how GigAir exceeds a typical household's usage was right at Christmas. Over the holiday break my 11-year-old son came up and said he was happy we had "this new better internet". That is very high praise coming from a discerning user. He was able to download the latest Forza game while watching YouTube. My other son was also watching YouTube, my daughter was watching Netflix, and I was downloading the latest Souls game while working from home.
Mathieu: We are very deep in the age of the internet; so much of what we do every day is reliant on it. I feel proud to help expand GigAir in our communities because I know that everyone can benefit from the speeds we can provide. In communities where fiber has already existed for the longest time, they've been pigeonholed into that one choice because nothing compared to it in regards to speed. Now we get to give people an extra choice to find the internet service that suits their needs best.
Travis: I was also excited to work on this project because MCSnet believes in working with the most cutting-edge technology to develop reliable, stable, high-speed internet. So when I had the opportunity to do this, I jumped at the chance as it meant I would be one of the first to be able to take advantage of this service.
Mathieu: One of the most exciting parts about GigAir is definitely seeing the interest from town councils and municipal leaders. Seeing their dedication to improving services in their community is heartwarming and it is an absolute pleasure to be a part of anything to help others.