6 Technology Tips for Seniors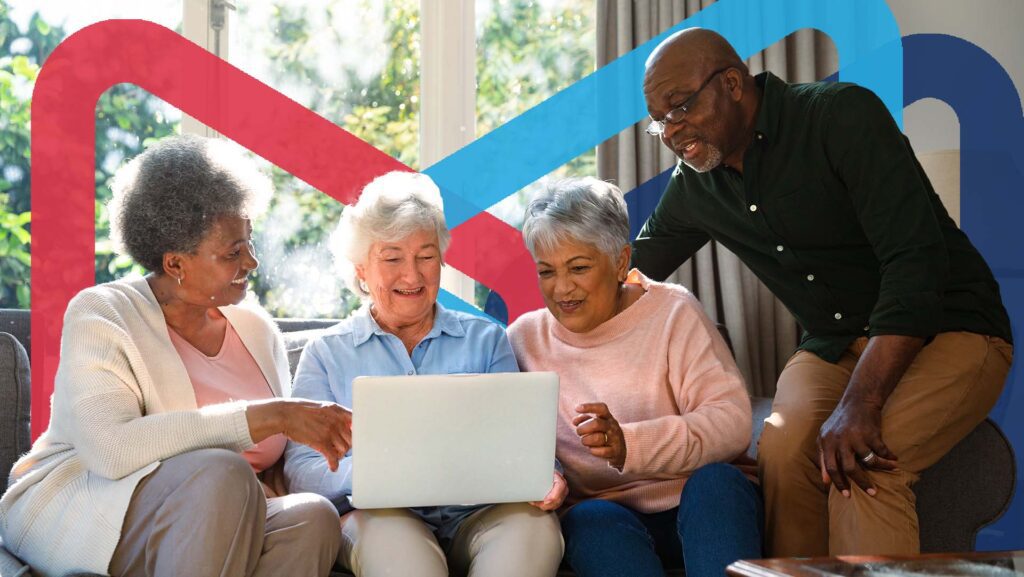 Older adults in Canada are becoming more tech-savvy than ever, with more than 68% surfing the web regularly. No matter what age you are, the internet can be a powerful tool to learn, stay entertained, and connect with loved ones. Follow these technology tips for seniors to make the most of your time online.
Keep in touch with video chats
Far away from family and friends? Thanks to technology, you can see and talk to people you care about—with touch of a button. Whether you have a desktop, laptop, tablet, or smartphone, most devices allow you to video chat online. It's only a matter of downloading the right software and setting it up. Choose from these popular video chat applications and follow their instructions to download one.
Be smart about emailing
Email is another popular way for seniors to connect. Much like regular mail, you can exchange letters with family members, or you can even use it to sign up for services like online shopping or social media.
Create a strong password with a mix of capitalized and lowercase letters, numbers, and at least one special character. Avoid obvious phrases like your name, birthday, or pet's name.
Always check the sender's email address to make sure you're talking to someone you know and trust.
Avoid sharing personal information, such as your credit card number, phone number, or address. Hackers can use this to send you spam mail, take money, or steal your identity.
Be careful about unknown links and attachments in emails. Again, make sure you recognize the sender before clicking or downloading anything, because otherwise it could be a virus.
Stay connected on social media
Are you one of the 1 in 3 Canadian seniors who is on social media? Apps like Facebook and Instagram let you reconnect with old friends, stay in the know with family, and share what matters to you. Plus, you can learn about events in your area and join communities related to your interests.
Facebook: Try this tutorial to learn how to set up a profile and navigate the platform
Instagram: Check out this how-to guide for using the popular photo- and video-sharing app
Like anywhere on the internet, be careful about what you share on social media. Don't post or message personal information to anyone. Be selective about who you add to your friends list and adjust your privacy settings to make sure your posts are only seen by the people you want to see them.
Buy essentials with online shopping
It's never been easier to purchase what you need on the internet. You can shop for groceries, takeout, clothes, personal care items, supplies, and much more. We're big fans of buying local—so check if your favourite shops and restaurants have online ordering options available.
However, websites like Amazon do deliver to many rural communities in Alberta. You can search your postal code to check if they send packages to your area. This is a great option if you need household items and aren't able to run out to the store.  
Boost your health with apps
Did you know that technology can help you take care of your wellbeing? Whether it's your fitness or mental health, there's almost certainly an "app" out there for that.
Smart watches to monitor your steps and heart rate
Workout videos and apps designed for seniors
Monitoring apps to alert about falls and medical issues
Meditation and journaling apps
Music, video, TV, and movie apps
Cooking and meal planning apps
Head to the Apple App Store or Google Play Store to explore what's out there and download the best apps for your device.
Take a computer course
Are you excited to try the internet, but need help learning the basics or certain skills like troubleshooting? Many community and government groups offer computer courses for seniors. Check your municipality's website to see available events.
We also recommend the non-profit Connected Canadians for older adults who are interested in technology training. They offer both one-on-one instruction and group workshops, so reach out to them if you or a loved one is interested.
Discover our fast rural internet
Technology works so much better when you have reliable internet! We serve communities throughout northeastern Alberta and northwestern Saskatchewan, so learn about our home internet packages and sign up today. Be sure to contact our friendly support team if you have any questions.