Service Upgrades to Serve You Better (2021)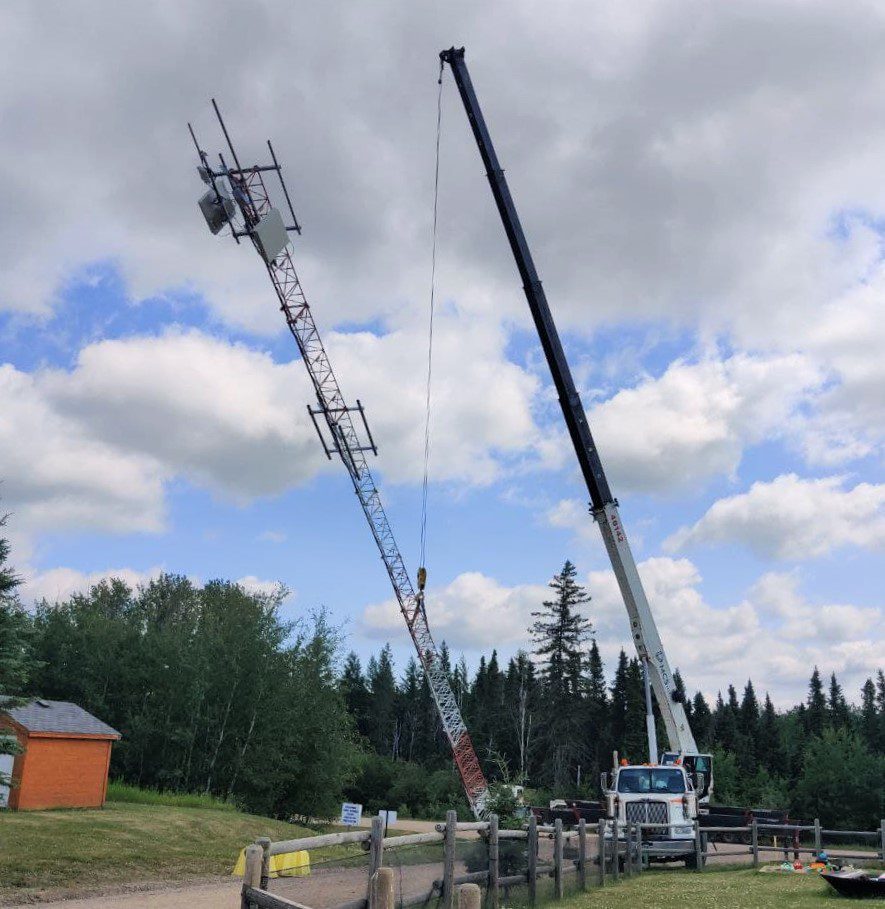 MCSnet continues to be the leader in rural wireless and fiber internet across Northeastern Alberta and Northwestern Saskatchewan. Just because you live in rural Alberta doesn't mean you should have to contend with unexpected internet interruptions.
We receive regular inquiries about our service upgrades. In an effort to provide more information to our customers, we have compiled a list of communities that have seen upgrades in 2021.
Throughout our network of 550+ towers, we continue to upgrade equipment, install additional Access Points (AP), replace towers with taller ones, or dig fiber-optic cables in between our towers to increase bandwidth capabilities.
In addition to these upgrades, we are also very excited to have recently launched our new GigAir service in the town of St. Paul. GigAir provides fiber-optic speeds through the air. Keep checking our website and social media as additional communities become eligible for this service throughout 2022.
MCSnet is also pleased to announce we are partnering with many municipalities and non-profit organizations to bring complimentary Wi-Fi to certain public locations. We know life is busy and the need to stay connected has grown more than ever. Learn more about our complimentary hotspots and available locations in an upcoming blog post.
2021 Technology and Service Upgrades
The list below includes the general areas where upgrades have taken place over the past year and the type of upgrade:
Atmore (East of) – AP addition for capacity
Chauvin (South of) – Equipment upgrade for wireless tower feed capacity
Alcomdale (East of) – Equipment upgrade for wireless tower feed capacity
Alcomdale (West of) – Equipment upgrade for wireless tower feed capacity
Andrew – Equipment upgrade for wireless tower feed capacity
Andrew (South of) – New tower construction for additional capacity and reachability
Antler Lake – Equipment upgrade for wireless tower feed capacity
Ardmore – New tower construction for additional capacity and reachability Ardmore AP addition for capacity
Ardmore (North of) – Equipment upgrade for wireless tower feed capacity
Ardmore (South of) – Equipment upgrade for wireless tower feed capacity
Ascott – AP addition for capacity
Ascott – AP addition for capacity
Ashmont (East of) – AP addition for capacity
Aspen Ridge – Equipment upgrade for wireless tower feed capacity Athabasca AP addition for capacity
Athabasca – AP addition for capacity
Athabasca (North of) – AP addition for capacity
Athabasca Industrial Park – Equipment upgrade for wireless tower feed capacity
Athabasca Industrial – Park New tower construction for additional capacity and reachability
Avery Park – AP addition for capacity
Avery Park – AP addition for capacity
Barnes Lake – Equipment upgrade for wireless tower feed capacity
Barrhead – Equipment upgrade for wireless tower feed capacity
Barrhead – Transit fiber construction
Barrhead – AP addition for capacity
Barrhead (West of) – New tower construction for additional capacity and reachability
Barrhead (West of) – AP addition for capacity
Bayview Beach – AP addition for capacity
Beauvallon (South of) – New tower construction for additional capacity and reachability
Beaver Crossing (South of) – Equipment upgrade for wireless tower feed capacity
Bellis – AP addition for capacity
Blue Heron Estates – New tower construction for additional capacity and reachability
Blue Heron Estates – Equipment upgrade for wireless tower feed capacity
Blue Heron Estates – AP addition for capacity
Bonnie Lake Estates – New tower construction for additional capacity and reachability
Bonnyville (East of) – Equipment upgrade for wireless tower feed capacity
Bonnyville (North of) – AP addition for capacity
Bruce – AP addition for capacity
Buffalo Lake – Equipment upgrade for wireless tower feed capacity
Busby (West of) – Equipment upgrade for wireless tower feed capacity
Cabin Lake – Equipment upgrade for wireless tower feed capacity
Cary Ridge Estates – Equipment upgrade for wireless tower feed capacity
Clarke Lake – Equipment upgrade for wireless tower feed capacity
Clearbrook – Equipment upgrade for wireless tower feed capacity Clyde AP addition for capacity
Colinton (West of) – Equipment upgrade for wireless tower feed capacity Colinton (West of) AP addition for capacity
Collingwood Cove – AP addition for capacity
Craigend – Equipment upgrade for wireless tower feed capacity Craigend (West of) AP addition for capacity
Croftland – Equipment upgrade for wireless tower feed capacity Dapp (East of) AP addition for capacity
Daysland – AP addition for capacity
Derwent (North of) – AP addition for capacity
Dewberry (North of) – AP addition for capacity
Dowling Estates – AP addition for capacity
Edberg (West of) – AP addition for capacity
Edberg (West of) – Equipment upgrade for wireless tower feed capacity
Edmond – Equipment upgrade for wireless tower feed capacity
Elinor Lake Resort – New tower construction for additional capacity and reachability
Elk Point – New tower construction for additional capacity and reachability
Elk Point – New tower construction for additional capacity and reachability
Elk Point (West of) – AP addition for capacity
Elscott (West of) – AP addition for capacity
Elscott (West of) – New tower construction for additional capacity and reachability
Fawcette – Equipment upgrade for wireless tower feed capacity
Fawcette – AP addition for capacity
Ferintosh – Equipment upgrade for wireless tower feed capacity
Flat Lake (West of) – Equipment upgrade for wireless tower feed capacity
Floating Stone – AP addition for capacity
Foisy – Transit fiber construction
Fork Lake – AP addition for capacity
Fort Assiniboine – New tower construction for additional capacity and reachability
Franchere – Equipment upgrade for wireless tower feed capacity
Galloway – AP addition for capacity
Galloway – Equipment upgrade for wireless tower feed capacity Goodridge AP addition for capacity
Goodridge (Northeast of) – AP addition for capacity
Grandview Estates – Equipment upgrade for wireless tower feed capacity
Grandview Estates – New tower construction for additional capacity and reachability
Grassland – Equipment upgrade for wireless tower feed capacity
Green Street – AP addition for capacity
Hairy Hill – New tower construction for additional capacity and reachability
Half Moon (North of) – Equipment upgrade for wireless tower feed capacity
Hastings Lake (North of) – Equipment upgrade for wireless tower feed capacity
Hay Lakes (West of) – Equipment upgrade for wireless tower feed capacity
High Ridge (North of) – AP addition for capacity
Horseshoe Bay – Equipment upgrade for wireless tower feed capacity
Innisfree – AP addition for capacity
Island Lake – Equipment upgrade for wireless tower feed capacity
Jarvie – AP addition for capacity
Jarvie – Equipment upgrade for wireless tower feed capacity
Joyland Estates – Equipment upgrade for wireless tower feed capacity
Joyland Estates – New tower construction for additional capacity and reachability
Kehewin (West of) – Equipment upgrade for wireless tower feed capacity
Kikino – New tower construction for additional capacity and reachability
Kikino – Equipment upgrade for wireless tower feed capacity
Kikino – AP addition for capacity
Kingman (West of) – AP addition for capacity
Kitscoty – AP addition for capacity
Kitscoty (North of) – Equipment upgrade for wireless tower feed capacity
Lac Belleview – AP addition for capacity
Lac La Biche – AP addition for capacity
Lac La Biche (North of) – AP addition for capacity
Lac La Biche Lakeview – Equipment upgrade for wireless tower feed capacity
Lac La Biche Mission – Equipment upgrade for wireless tower feed capacity
Lac La Nonne (South of) – AP addition for capacity
Lac Sante – AP addition for capacity
LaCorey AP – addition for capacity
LaCorey – Equipment upgrade for wireless tower feed capacity
Lafond (Northeast of) – AP addition for capacity
Lafond (Northeast of) – AP addition for capacity
Lavoy – AP addition for capacity
Legal – AP addition for capacity
Legal (South of) – Equipment upgrade for wireless tower feed capacity
Legal (South of) – AP addition for capacity
Lina-Country Estates – AP addition for capacity
Lloydminster (North of) – Transit fiber construction
Lloydminster (West of) – Equipment upgrade for wireless tower feed capacity
Lloydminster Industrial Park – AP addition for capacity
Lottie Lake – AP addition for capacity
Lottie Lake – AP addition for capacity
Lower Mann Lake – Equipment upgrade for wireless tower feed capacity
Mallaig (North of) – Equipment upgrade for wireless tower feed capacity
Marsden – AP addition for capacity
Marsden (North of) – Equipment upgrade for wireless tower feed capacity
Marwayne – AP addition for capacity
Meanook (East of) – AP addition for capacity
Mellowdale – Equipment upgrade for wireless tower feed capacity
Meyers Lake – AP addition for capacity
Midway Estates – AP addition for capacity
Minburn – AP addition for capacity
Minburn – New tower construction for additional capacity and reachability
Missiwawi Estates – AP addition for capacity
Missiwawi Estates – Equipment upgrade for wireless tower feed capacity
Moose Lake – AP addition for capacity
Moose Lake Meadows – AP addition for capacity
Moose Mountain – AP addition for capacity
Moose Mountain – Equipment upgrade for wireless tower feed capacity
Morinville (West of) – Equipment upgrade for wireless tower feed capacity
Morning Gold Estates – AP addition for capacity
Murial Lake (East of) – Equipment upgrade for wireless tower feed capacity
Mystic Meadows – AP addition for capacity
Neerlandia – AP addition for capacity
New Norway – Equipment upgrade for wireless tower feed capacity
Newbrook (West of) – AP addition for capacity
Northern Bear – AP addition for capacity
Northern Bear – Equipment upgrade for wireless tower feed capacity Owl River AP addition for capacity
Parklane Estates – AP addition for capacity
Parklane Estates – Equipment upgrade for wireless tower feed capacity
Parkview Ridge Estates – AP addition for capacity
Parkview Ridge Estates – Equipment upgrade for wireless tower feed capacity
Peabrock (East of) – AP addition for capacity
Peanut Lake – AP addition for capacity
Perryvale (West of) – Equipment upgrade for wireless tower feed capacity
Phoa – Equipment upgrade for wireless tower feed capacity
Pickardville (North of) – AP addition for capacity
Pickardville (South of) – AP addition for capacity
Pine Lane – AP addition for capacity
Provost – Equipment upgrade for wireless tower feed capacity
Radway AP – addition for capacity
Radway – Increase in fiber backhauling
Richdale Estates – AP addition for capacity
Richdale Estates – Equipment upgrade for wireless tower feed capacity
Riverhurst – New tower construction for additional capacity and reachability
Rochester – AP addition for capacity
Rosalind – Equipment upgrade for wireless tower feed capacity
Roundhill – AP addition for capacity
Saddle Lake – AP addition for capacity
Saddle Lake – AP addition for capacity
Saddle Lake South – Equipment upgrade for wireless tower feed capacity
Sandy Beach (North of) – Equipment upgrade for wireless tower feed capacity
Sedgewick – AP addition for capacity
Sherwood Forest – Equipment upgrade for wireless tower feed capacity
Skeleton Lake – New tower construction for additional capacity and reachability
Skeleton Lake – AP addition for capacity
Smoky Lake – AP addition for capacity
Smoky Lake – Increase in fiber backhauling
Smoky Lake (North of) – Equipment upgrade for wireless tower feed capacity
Smoky Lake (South of) – AP addition for capacity
South of Chauvin – AP addition for capacity
Spedden – Increase in fiber backhauling
Spring Beach – AP addition for capacity
Spruce Hills Estates – Equipment upgrade for wireless tower feed capacity
St. Paul (West of) – Transit fiber construction
Strome – New tower construction for additional capacity and reachability
Strome – Equipment upgrade for wireless tower feed capacity
Thorhild – AP addition for capacity
Thorhild – AP addition for capacity
Tiebeck Estates – AP addition for capacity
Tiebeck Estates – New tower construction for additional capacity and reachability
Two Hills (South of) – New tower construction for additional capacity and reachability
Two Hills Landfill -AP addition for capacity
Vega – Equipment upgrade for wireless tower feed capacity
Vermilion (South of) – AP addition for capacity
Vermilion (West of) – Transit fiber construction
Viking (South of) – AP addition for capacity
Vilna – AP addition for capacity
Vimy – AP addition for capacity
Wainwright – AP addition for capacity
Wainwright (North of) – New tower construction for additional capacity and reachability
Wandering River – New tower construction for additional capacity and reachability
Warwick (South of) – Equipment upgrade for wireless tower feed capacity
Waskatenau – AP addition for capacity
West Missiwawi – AP addition for capacity
West Wind Trailer – Park AP addition for capacity
Westlock – AP addition for capacity
Westlock (South of) – AP addition for capacity
Whispering Hills – AP addition for capacity
Whispering Hills – Equipment upgrade for wireless tower feed capacity
Whitefish – Equipment upgrade for wireless tower feed capacity
Whitetail Estates – Equipment upgrade for wireless tower feed capacity
Willow Road – AP addition for capacity
Willingdon – New tower construction for additional capacity and reachability
Willow Road – Equipment upgrade for wireless tower feed capacity
Woodland Downs – AP addition for capacity
Woodland Downs – Equipment upgrade for wireless tower feed capacity
Youngs Beach – AP addition for capacity