Top 5 Tech Support Questions
As with everything in life, your internet service may experience a need for tech support. Everyone just wants their internet to work and when things go wrong, coming up with a solution yourself is often the fastest way to resolve the current issue.
In an effort to help you with the most frequent issues you might face, here's our list of the five most commonly asked questions to our Tech Support Team and more importantly, the answers.
1. How can I change my Wi-Fi password?
There are two possible answers for this question and it comes down to if you have an MCSnet router or another brand.
MCSnet router – To change the Wi-Fi password on the MCSnet router you will need to log in to your MCSnet My Account. You can do this from our website or using the MCSnet My Account app. Once in My Account, you will see Wi-Fi in the left navigation bar. Click on Wi-Fi and a new page will load with a summary of your Wi-Fi settings. You just need to click Edit to make changes to your Wi-Fi password. Once the changes are made, just click Save and your new Wi-Fi password is set.
Non-MCSnet router – This is a little more difficult, but still manageable. You'll need to either use your router IP or login directly to your router using its gateway address. Each router manufacturer is different. You can refer to your manual to find this information and the steps to follow.
Another option is to do a Google search. Just type "Change my router password xxx", with the "xxx" indicating the brand of your router. Follow the directions and, viola, your password is changed. Of course don't forget to save any changes.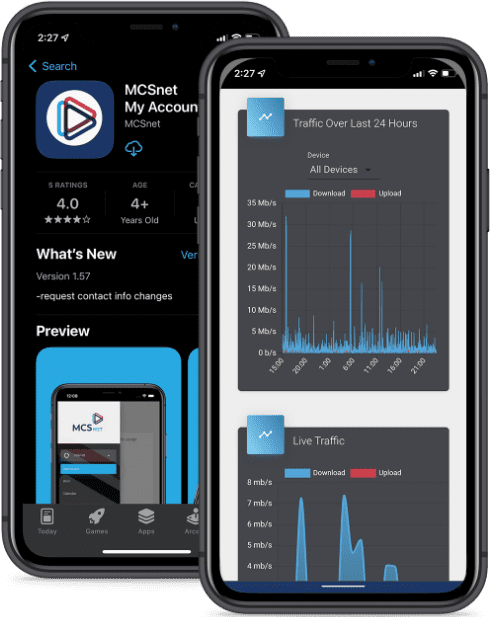 2. Why, when I am not even home, is my data being used?
Many devices often download updates or schedule large files to download when network usage is low. Devices such as Windows and Mac computers, and game consoles such as Playstation and Xbox can download extremely large files that take several hours to complete. These updates automatically download on their own unless the device is completely turned off.
Other devices such as Amazon Fire TV Sticks or Roku streaming devices will also continue to stream content if not shut off properly and autoplay is not disabled. Some of our customers complain about high usage only to find out that they were watching their Fire Stick on a Friday night, turned off their TV, and not the Fire Stick, and it continued to stream all weekend without the customer realizing it.
It's always a good idea to double check the devices you have connected to your internet before walking away for long periods of time. For a summary of how much data certain services consume take a look at this post How Much Internet do I Need?
3. Why is my Wi-Fi signal weak and cutting out?
A lot of people don't understand the difference between Wi-Fi and the internet and where Wi-Fi comes from. Wi-Fi refers to the signal between your router and your devices.
If you have a weak Wi-Fi signal on one of your devices then that means that they are either too far from the transmit source (router) or there are too many obstructions between the router and their device. Wi-Fi also uses wireless frequencies that are open and are utilized by many other devices such as Bluetooth devices, baby monitors, cordless phones, wireless cameras, Wi-Fi extenders, etc.
By this very nature Wi-Fi is not very reliable and its use should be minimized where possible. You can also take a look at these two past blog posts How to Get the Best Wi-Fi in your home and How Do I Get the Best Wi-Fi signal for a few extra tips.
4. Why do I always have to reboot my Wi-Fi router?
From time to time we have noticed our internet is acting up and the first question someone asks is did you reboot your router? There is a good reason for this. Routers are like cheap little computers. Computers often mess up and rebooting them seems to resolve most issues. A router is no different. Like a computer, routers have a CPU and memory. Rebooting it clears the memory causing it to perform better.
Secondly, on start-up, the router performs a frequency scan to best select the frequency band to transmit a Wi-Fi signal. If the router detects a source of interference from let's say a baby monitor it will likely select a quieter spot in the frequency range. Less noise equals less disconnection and more speed.
Do you need all your Wi-Fi devices going at once? Turn some off to conserve bandwidth. Look at this great article on How to Reboot Your Router the Correct Way.
5. How do I reset my router?
Another question we get is how to reset a router. A customer may forget their Wi-Fi password or login credentials and the only way around this is to factory reset the router. Most routers have a reset button located on the back or bottom of the router and need a sharp object to depress this reset button.
We advise the customer to call the manufacturer before attempting to reboot the router themselves. Most times you can initiate the reset by holding the reset button down for 5-10 seconds. Once the router power cycles and comes back up, you should see the default Wi-Fi SSID (network name). The default password is usually located on the bottom sticker underneath the router.
So there you have the top five questions our Tech Support Team answers the most. We hope this helps you get back online faster and troubleshoot any issues you have with your Wi-Fi. If you are still having connection issues, please feel free to give MCSnet Tech Support a call at 1-866-390-3928 ext. 2. Happy surfing!