Service Upgrades to Serve You Better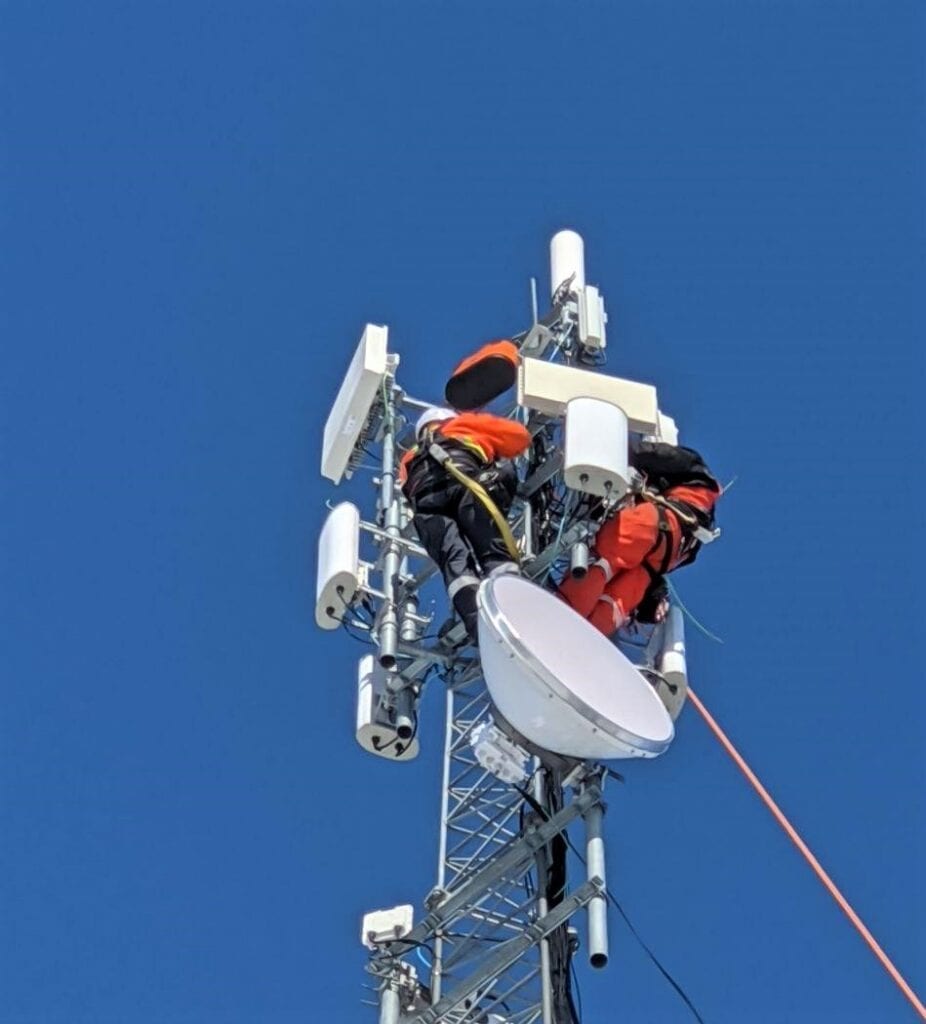 MCSnet continues to be the leader in rural internet across Northeastern Alberta and Northwestern Saskatchewan. Just because you live in rural Alberta doesn't mean you should have to contend with unexpected internet interruptions.
We receive regular inquiries about our service upgrades. In an effort to provide more information to our customers, we have compiled a list of communities that have seen upgrades in 2020.
Throughout our network of 550+ towers, we continue to upgrade equipment, install additional Access Points (AP), replace towers with taller ones, or dig fiber in between our towers to increase bandwidth capabilities.
This list includes the general areas of where these upgrades have taken place and the type of upgrade:
| | | | |
| --- | --- | --- | --- |
| Foisy | Equipment upgrade for wireless tower feed capacity | | |
| North of Derwent | Equipment upgrade for wireless tower feed capacity | | |
| Barrhead | Increase in fiber backhauling | | |
| West of Mosside | Equipment upgrade for wireless tower feed capacity | | |
| Irma | AP addition for capacity | | |
| Whispering Hills | AP addition for capacity | | |
| South of Elk Point | Equipment upgrade for wireless tower feed capacity | | |
| East of Dewent | AP addition for capacity and reachability | | |
| South East of Vermilion | AP addition for capacity and reachability | | |
| Innisfree | Equipment upgrade for wireless tower feed capacity | | |
| South of Islay | Equipment upgrade for wireless tower feed capacity | | |
| Thorhild | AP addition for capacity | | |
| Abee | Equipment upgrade for wireless tower feed capacity | | |
| Breynat | Equipment upgrade for wireless tower feed capacity | | |
| Grassland | Equipment upgrade for wireless tower feed capacity | | |
| Colingwood Cove | Fiber for tower backhauling | | |
| South of Half Moon Lake | Fiber for tower backhauling | | |
| South of Holden | Equipment upgrade for wireless tower feed capacity | | |
| Bruce | Equipment upgrade for wireless tower feed capacity | | |
| Warspite | AP addition for capacity and reachability | | |
| Skeleton Lake Mewatha Beach | New tower construction for additional capacity and reachability | | |
| Morning Gold Estates | New tower construction for additional capacity and reachability | | |
| Wildwood Village | AP addition for capacity and reachability | | |
| Uncas | AP addition for capacity | | |
| South of Rylie | AP addition for capacity and reachability | | |
| West of Hay Lakes | Equipment upgrade for wireless tower feed capacity | | |
| Vimy | AP addition for capacity | | |
| South of Egremont | AP addition for capacity and reachability | | |
| South West of Marshall, SK | AP addition for capacity | | |
| Campsie | Equipment upgrade for wireless tower feed capacity | | |
| Vega | AP addition for capacity | | |
| South of Lac La Nonne | New tower construction for additional capacity and reachability | | |
| North of Rylie | New tower construction for additional capacity and reachability | | |
| Myrnam | AP addition for capacity | | |
| Lottie Lake | New tower construction for additional capacity and reachability | | |
| Tofield | AP addition for capacity | | |
| North of Tofield | New tower construction for additional capacity and reachability | | |
| Lac La Nonne | AP addition for capacity | | |
| South of Bonnyvile | AP addition for capacity | | |
| West of Lloydminster | AP addition for capacity | | |
| South of Lloydminster | Equipment upgrade for wireless tower feed capacity | | |
| Dowling Estates | Equipment upgrade for wireless tower feed capacity | | |
| North of Dewberry | Equipment upgrade for wireless tower feed capacity | | |
| North of St. Paul | New tower construction for additional capacity and reachability | | |
| Willow Road | AP addition for capacity | | |
| West of Thorhild | AP addition for capacity and reachability | | |
| North of Mount Joy | Equipment upgrade for wireless tower feed capacity | | |
| South of Bonnyville | Equipment upgrade for wireless tower feed capacity | | |
| Marwayne | AP addition for capacity and reachability | | |
| Laurier Lake | Equipment upgrade for wireless tower feed capacity | | |
| Saddle Lake West | Equipment upgrade for wireless tower feed capacity | | |
| East of Kitscoty | AP addition for capacity and reachability | | |
| Colingwood Cove | AP addition for capacity | | |
| Pickardville | AP addition for capacity | | |
| South of Chipman | AP addition for capacity | | |
| St. Vincent | AP addition for capacity | | |
| Antler Lake | AP addition for capacity | | |
| South of St. Paul | New tower construction for additional capacity and reachability | | |
| Thunder Lake | New tower construction for additional capacity and reachability | | |
| North of Fabyan | Equipment upgrade for wireless tower feed capacity | | |
| Mannville | AP addition for capacity and reachability | | |
| South of Half Moon Lake | AP addition for capacity | | |
| Midway Estates | AP addition for capacity | | |
| West of Westlock | Equipment upgrade for wireless tower feed capacity | | |
| Northern Bear | AP addition for capacity | | |
| Donatville | Equipment upgrade for wireless tower feed capacity | | |
| Newton Estates | Equipment upgrade for wireless tower feed capacity | | |
| Richdale Estates | AP addition for capacity | | |
| Croftland | AP addition for capacity | | |
| Crestview Beach | AP addition for capacity | | |
| North of Fort Kent | Equipment upgrade for wireless tower feed capacity | | |
| North of Fort Kent | AP addition for capacity and reachability | | |
| Fort Kent | AP addition for capacity | | |
| Irma | Fiber for tower backhauling | | |
| Busby | Equipment upgrade for wireless tower feed capacity | | |
| Busby | AP addition for capacity | | |
| South of Islay | AP addition for capacity | | |
| Gunnmanor | AP addition for capacity | | |
| Kikino | AP addition for capacity | | |
| Ministik Estates | AP addition for capacity | | |
| Saddle Lake | AP addition for capacity | | |
| Kitscoty | AP addition for capacity | | |
| Onion Lake | Equipment upgrade for wireless tower feed capacity | | |
| Edgerton | Equipment upgrade for wireless tower feed capacity | | |
| South of Elk Point | AP addition for capacity | | |
| East of Alcomdale | Equipment upgrade for wireless tower feed capacity | | |
| Killam | Equipment upgrade for wireless tower feed capacity | | |
| Moose Lake North Shore | AP addition for capacity and reachability | | |
| Glendon | AP addition for capacity and reachability | | |
| East of Alcomdale | AP addition for capacity | | |
| Bonnyville | AP addition for capacity | | |
| Looma Estates | AP addition for capacity | | |
| Moose Lake | AP addition for capacity | | |
| Chipman | AP addition for capacity | | |
| Cold Lake | Increase in fiber backhauling | | |
| North of High Ridge | AP addition for capacity | | |
| Radway | AP addition for capacity | | |
| Vermilion | AP addition for capacity | | |
| South of Westlock | AP addition for capacity | | |
| Gully Lake | Equipment upgrade for wireless tower feed capacity | | |
| Laurier Lake | AP addition for capacity | | |
| East of St. Paul | AP addition for capacity | | |
| South of Wostock | Equipment upgrade for wireless tower feed capacity | | |
| Lower Mann Lake | Equipment upgrade for wireless tower feed capacity | | |
| Lottie Lake | Equipment upgrade for wireless tower feed capacity | | |
| West of Pibroch | AP addition for capacity | | |
| Trevithick Park | Equipment upgrade for wireless tower feed capacity | | |
| Sherwood Forest | AP addition for capacity | | |
| South of Bruderheim | New tower construction for additional capacity and reachability | | |
| Whispering Hills | Equipment upgrade for wireless tower feed capacity | | |
| Parkview Ridge Estates | AP addition for capacity | | |
| Meadow Brook Heights | AP addition for capacity | | |
| North of Half Moon Lake | AP addition for capacity | | |
| Bruderheim | AP addition for capacity and reachability | | |
| Moose Lake North Shore | Equipment upgrade for wireless tower feed capacity | | |
| Skeleton Lake Mewatha Beach | Fiber for tower backhauling | | |
| West of Thorhild | Equipment upgrade for wireless tower feed capacity | | |
| East of Lloyminster | Equipment upgrade for wireless tower feed capacity | | |
| South West of Marshall, SK | Equipment upgrade for wireless tower feed capacity | | |
| Atmore | AP addition for capacity and reachability | | |
| North of Thorhild | AP addition for capacity and reachability | | |
| West of Kehewin | AP addition for capacity | | |
| South of Iron River | AP addition for capacity | | |
| Voyageur Estates | AP addition for capacity | | |
| Saddle Lake South | AP addition for capacity | | |
| East of Lloydminster | AP addition for capacity | | |
| South of Josephburg | AP addition for capacity | | |
| Century Estates | AP addition for capacity | | |
| Athabasca | Equipment upgrade for wireless tower feed capacity | | |
| South of Ardmore | AP addition for capacity | | |
| South of Legal | AP addition for capacity | | |
| South of Bruderheim | AP addition for capacity | | |
| Lilly Lake Estates | AP addition for capacity | | |
| North of Bruce | Equipment upgrade for wireless tower feed capacity | | |
| Croftland | Equipment upgrade for wireless tower feed capacity | | |
| Tidan Heights | Equipment upgrade for wireless tower feed capacity | | |
| North of Vermilion | Equipment upgrade for wireless tower feed capacity | | |
| North of Minburn | Equipment upgrade for wireless tower feed capacity | | |
| South of Minburn | Equipment upgrade for wireless tower feed capacity | | |
| Czar | Equipment upgrade for wireless tower feed capacity | | |
| Amisk | AP addition for capacity and reachability | | |
| Larkspur | AP addition for capacity | | |
| West of Westlock | AP addition for capacity | | |
| Flat Lake | AP addition for capacity | | |
| North of Caslan | AP addition for capacity and reachability | | |
| Hillmond | AP addition for capacity | | |
| West of Lloydminster | Fiber for tower backhauling | | |
| Kehewin | Equipment upgrade for wireless tower feed capacity | | |
| Moose Lake Evergreen Estates | Equipment upgrade for wireless tower feed capacity | | |
| Nakumun Lake | Equipment upgrade for wireless tower feed capacity | | |
| North of St. Michael | Equipment upgrade for wireless tower feed capacity | | |
| Hawkstone | Fiber for tower backhauling | | |
| North East of Two Hills | Equipment upgrade for wireless tower feed capacity | | |
| Willow Creek | Fiber for tower backhauling | | |
| North of Myrnam | Equipment upgrade for wireless tower feed capacity | | |
| Newbrook | Equipment upgrade for wireless tower feed capacity | | |
| Long Lake | Equipment upgrade for wireless tower feed capacity | | |
| Saddle Lake East | Equipment upgrade for wireless tower feed capacity | | |
| Saddle Lake West | AP addition for capacity | | |
| South of Cold Lake | AP addition for capacity | | |
| East of LaCorey | AP addition for capacity and reachability | | |
| North of Ferintosh | AP addition for capacity and reachability | | |
| Century Estates | Fiber for tower backhauling | | |
| Dowling Estates | AP addition for capacity and reachability | | |
| South of Thorhild | AP addition for capacity and reachability | | |
| Strome | New tower construction for additional capacity and reachability | | |
| Mount Joy | AP addition for capacity | | |
| Egremont | Fiber for tower backhauling | | |
| North of Abee | Fiber for tower backhauling | | |
| Smoky Lake | Fiber for tower backhauling | | |
| Thorhild | Fiber for tower backhauling | | |
| Vilna | Fiber for tower backhauling | | |
| Warspite | Fiber for tower backhauling | | |
| Waskateneau | Fiber for tower backhauling | | |
| South East of Vermilion | Equipment upgrade for wireless tower feed capacity | | |
| North of Lloydminster | AP addition for capacity | | |
| North of Mundare | AP addition for capacity and reachability | | |
| Island Lake | AP addition for capacity | | |
| Ascot | Equipment upgrade for wireless tower feed capacity | | |
| Chauvin | Equipment upgrade for wireless tower feed capacity | | |
| West of Plamondon | AP addition for capacity and reachability | | |
| Lloyminster Industrial Park | Equipment upgrade for wireless tower feed capacity | | |
| Vilna | AP addition for capacity | | |
| North of High Ridge | Equipment upgrade for wireless tower feed capacity | | |
| North East of Goodridge | Equipment upgrade for wireless tower feed capacity | | |
| Muriel Lake East | Equipment upgrade for wireless tower feed capacity | | |
| West of Lac La Biche | AP addition for capacity | | |
| Youngs Beach | AP addition for capacity | | |
| Bruderheim | Fiber for tower backhauling | | |
| Hilliard | Fiber for tower backhauling | | |
| Mundare | Fiber for tower backhauling | | |
| Mundare, Hilliard, Bruderheim, Parkside | Fiber for tower backhauling | | |
| South of Chipman | Equipment upgrade for wireless tower feed capacity | | |
| North of Plamondon | AP addition for capacity | | |
| Lac La Nonne | Equipment upgrade for wireless tower feed capacity | | |
| Skeleton Lake Bondiss | AP addition for capacity | | |
| Beaver Creek | AP addition for capacity | | |
| West of Cold Lake | Equipment upgrade for wireless tower feed capacity | | |
| Cadogan | AP addition for capacity | | |
| Provost | AP addition for capacity | | |
| Newton Estates | AP addition for capacity | | |
| Westlock | AP addition for capacity | | |
| Pickardville | AP addition for capacity | | |
Sign up today for a better rural internet! https://mcsnet.ca/internet/