Community Connections: 4-H Alberta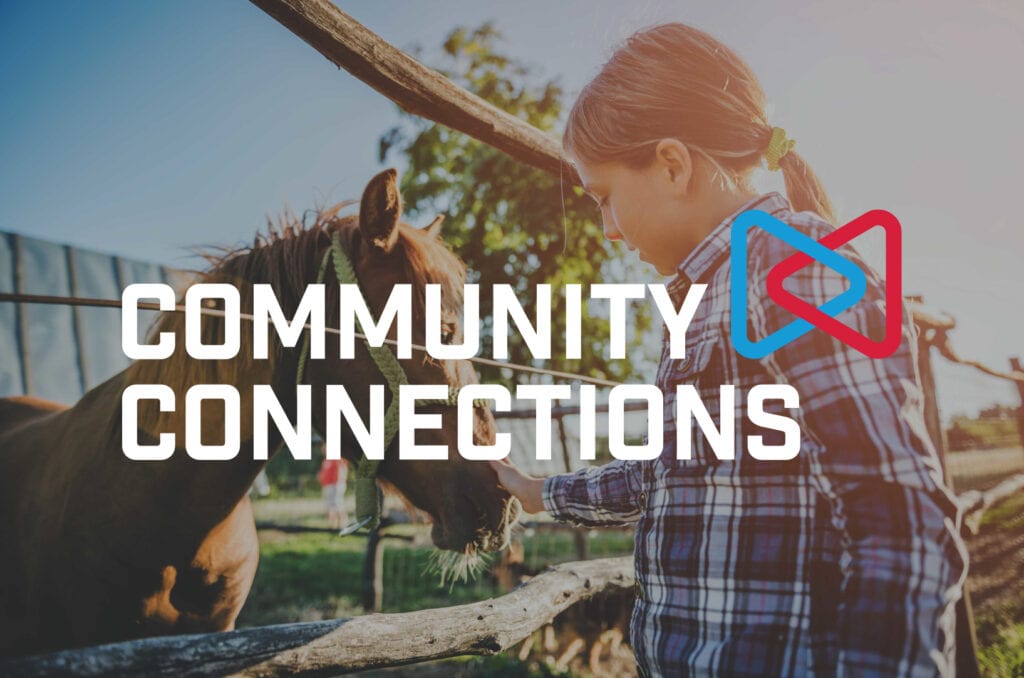 Imagine an Alberta where everyone's connected. That's what we're building at MCSnet. Thanks to your subscription, our Community Connections program gives free internet and funding to rural Albertans who need it most.
We recently spoke with Bianca von Nagy, the Director of Business Development at 4-H Alberta and one of our new Community Connections partners. From leadership and public speaking to agriculture and technology, 4-H Alberta has been a household name in youth development since 1917.
Read on to find out how our Community Connections program has helped this vibrant organization prosper.
How has MCSnet Community Connections left a positive impact on you?
At 4-H Alberta, we're trying to progress to meet the next generation's needs. So, when MCSnet's Gigabit Services Manager Travis led coding workshops with our members, we were very excited. Before pursuing a career in technology, Travis had worked summer jobs on farms and programmed the grain. Having him teach our members was a natural alignment, helping us educate young people and provide them with a fresh perspective.
Whether it's through drones, cameras, or automation, the agriculture industry is getting much more advanced. Today's youth can be tech savvy and still work in farming—MCSnet's Community Connections program is helping us fill that gap.
Why are you enthusiastic about helping Albertans?
I grew up in Germany and then immigrated to Canada, and I immediately felt at home. I met my husband here, and we've had our kids here. I love working at 4-H Alberta, because I can give back to a place that has welcomed me with open arms.
Helping young Albertans is important so that they can grow into confident adults. That's how they become future leaders in our community. Starting early to nurture their development and being proactive will help set them up for success.
Can you tell us your favourite story about how you're making a difference?
We were proud to remain open throughout COVID-19. High-speed internet gave us the power to keep our 6,000 members connected in a virtual environment. The positive side to the pandemic was that we could hold online programming across the province—from Peace River to Calgary and Lethbridge. Hundreds of kids participated in digital events like our beef heifer show, cooking experiences, leadership training, and much more.
As we look beyond the pandemic, we're planning a hybrid of online and in-person activities. We're taking the good from these virtual experiences and growing our reach into rural Alberta communities.
If you had one piece of advice for organizations looking to improve connection in rural Alberta, what would it be?
Much like MCSnet, I believe you need to get to know your audience and gain a deep understanding of them. You can't just say that you're supporting on the surface. Building connections is about respect, hard work, and passion. Everyone at 4-H Alberta is very passionate about what we do.
Of course, increasing market value is one aspect of business, but creating authentic relationships is key to your success. That's how rural Alberta will continue to grow. Connections keep communities strong.
Investing in the agriculture sector and inspiring youth to take over the family farm are also important. Even if you teach kids life skills outside of that, you're still educating them about the opportunities available to them.
What kind of future do you imagine for rural Alberta?
I want to see the agriculture sector grow. From an existential point of view, it's needed. How do you feed the billions of people in the world in 2050? It comes down to crop science, sustainable agriculture, and technology.
MCSnet is working with 4-H Alberta to connect young farmers with rural internet. They believe in sharing best practices, helping your neighbours, and growing the sense of community in our province. Rural Alberta is so tight-knit and supportive, and I'd love to see more of that. I want to give our youth that same feeling of belonging in the future.
What ways have you connected with the MCSnet team?
MCSnet invests in 4-H Alberta because of their love of youth and agriculture. They just get it, and many of their team members are 4-H Alberta alumni. Our partnership is a natural fit.
I'm so grateful for the support we receive from MCSnet. It's incredibly important for our youth to feel like they're part of something bigger while also learning valuable life skills. We're proud and excited for what's next with the Community Connections program.
Sign Up for MCSnet Rural Internet & Give Back
No matter where you live in Alberta, you deserve real connection. That's what our Community Connections program is all about. With your subscription, you're helping organizations like 4-H Alberta thrive. Discover how our Community Connections program works and sign up for MCSnet internet here.