Why a Rural-Based Internet Provider is Better than a Space-Based One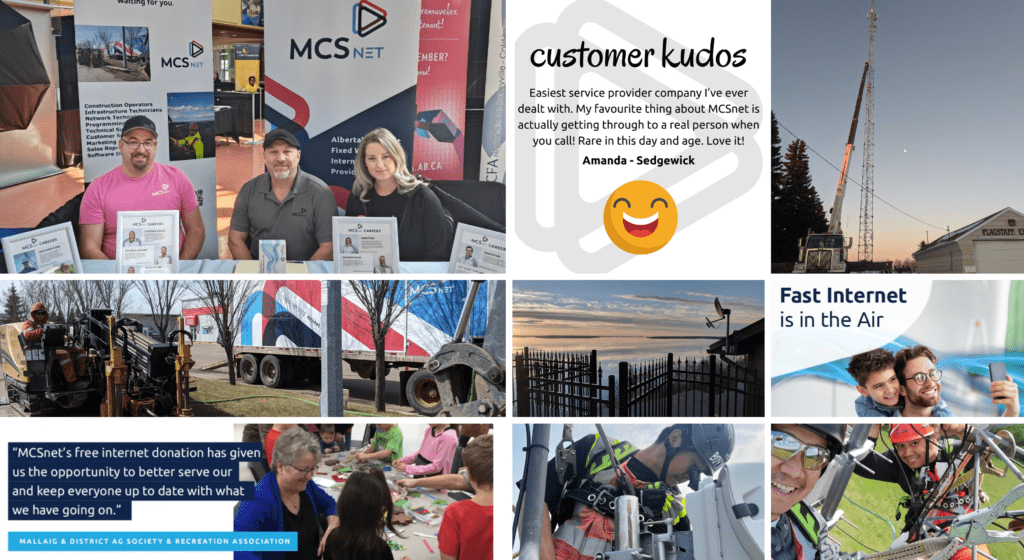 Space-based satellite internet solutions are trending right now, but this might be one trend to avoid. While these new satellite providers use satellite dishes to service a large number of people, our towers are set up no more than 15 kilometres away from you.
With internet options like GigAir, which runs on fiber-powered towers in your community, you don't have to worry about peak-time lag or slow, unreliable internet in heavy precipitation. For a better comparison, we have stacked our network up against the leading space-based satellite provider so you can see the difference for yourself.
MCSnet High Speed Internet
Leading Space-Based Internet
Network Congestion
PRIVATELY OWNED NETWORK
We have our own exclusive network of over 500 tower sites so that you are no further than 15 km from a tower. Fewer customers means little to no lag, even in peak hours.
PEAK-TIME DELAYS
Single satellites can service a large number of customers at once, so bandwidth is limited. Customers are likely to experience peak-time lag.


Speeds/
Latency
CONSISTENTLY FAST
Average speed is 58.6 Mbps download and 14.2 Mbps upload. Rural speeds up to 100 Mbps down and 25 Mbps up depending on location.

Latency is 30-40 ms.
FLUX AND FLOW
Claims to provide speeds of 20-100 Mbps download and 5-15 Mbps upload on a standard residential plan.

Latency is 25-60 ms depending on location.


Outages
QUICK REPAIRS
Our St. Paul-based crews are on the ground within 24 hours of an outage.

BACKUP CONNECTION NEEDED
Outages have been a challenge, as it's more difficult to service a satellite. It is recommended that customers have a backup connection in case of outages.
Customer Support
LOCAL STAFF SUPPORT
Our St. Paul team is always happy to take your call and support you through any issues – you'll always speak to a real person when you call.

SUPPORT TICKETS
Customer support runs on a ticketing system, so you can't phone and speak to a person. They don't provide a phone number, email address, or direct chat. In the case of an issue, you may have to wait days or even weeks for a response to your ticket.
Weather Delays
YEAR-ROUND RELIABILITY
Our towers and fiber solutions are built for harsh Alberta weather so you don't have to worry about weather impacting your internet.

INTERRUPTIONS
Satellite signal is impacted by harsh weather like storms, snow, and ice, so in harsh weather you may be without internet.


Price
TRANSPARENT PRICING
Our monthly internet plans start at $39.95 per month with a professional installation. There are no install fees on 2-year plans.
COSTLY INSTALLATION
Space-based satellite charges $599 – $3,170 for equipment fees (you do the install yourself) and then $140/month.

DIY Install
TECHNICIAN INSTALLATION
We will send technicians out to do any necessary install and test to ensure you're getting the proper speeds.
FEND FOR YOURSELF
Space-based satellite sends you the equipment for you to install your own satellite dish.


Community Connections
GIVING BACK TO THE LOCAL COMMUNITY
As part of our Community Connections program, we give back to the communities we serve across Alberta.
NO LOCAL INVOLVEMENT
No community efforts.




More Reasons Why to Choose MCSnet Over the Competition
Local Expertise
Unlike other service providers, we don't have to Google where Alberta is! We're based right here in Alberta, and we know the challenges and opportunities that come with rural living. Our local presence means we can tailor our services to meet your specific needs, ensuring you get the most out of your internet experience.
Reliable Connectivity
We understand how important it is to have a consistent internet connection, especially in rural areas where signal strength can be unpredictable. At MCSnet, reliability is at the core of what we do. You can trust that your connection will be there when you need it most, so you can browse, learn, and enjoy without disruptions.
Community Support
We're not just an internet provider; we're part of the community. We understand the significance of strong community bonds in rural Alberta, and we're committed to supporting local initiatives and events. When you choose MCSnet, you're choosing a company that cares about the well-being of rural Alberta.
Personalized Service
At MCSnet, you're not just a number or dollar sign. We pride ourselves on delivering personalized customer service that's attentive, responsive, and human. Our friendly support team is here to assist you with any questions or concerns you may have, ensuring you always feel valued and heard.
Secure Network
Your online security matters to us. We provide a secure network environment, so you can browse, shop, and communicate online with peace of mind. Our commitment to your privacy and security is unwavering, allowing you to use the internet worry-free.
Innovative Advancements
MCSnet is the leading provider of 60 GHz technology in North America with its newest product, GigAir. We are able to provide fiber-like speeds through the air quickly and efficiently without the high cost of trenching fiber optic cables. And with other wireless technologies available within the next year, we know we can meet your high speed internet needs no matter where you live.
Thank you for choosing MCSnet as your rural Alberta internet provider. We're excited to keep you connected and provide you with top-notch internet services that truly makes a difference in your online experience.