Choosing the Best Email Service Provider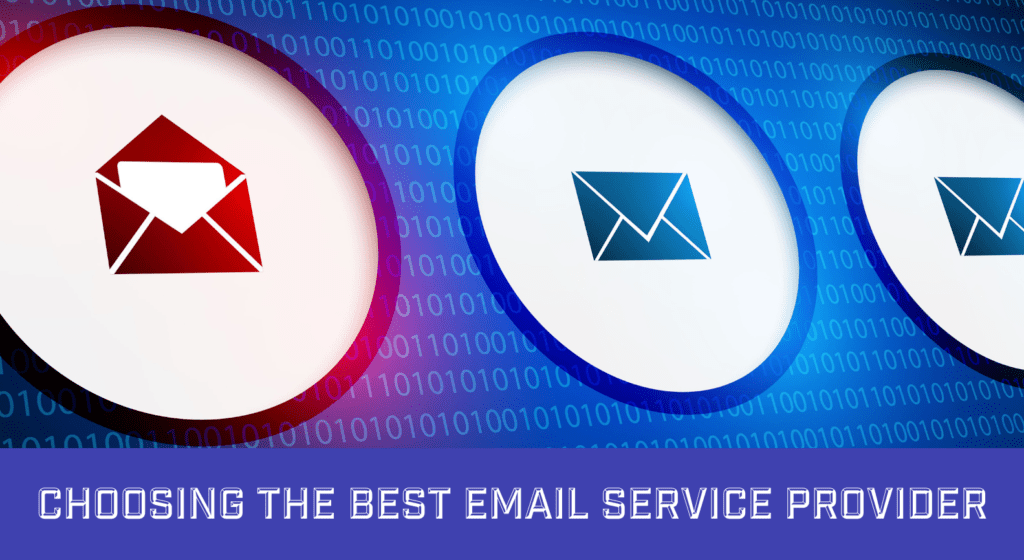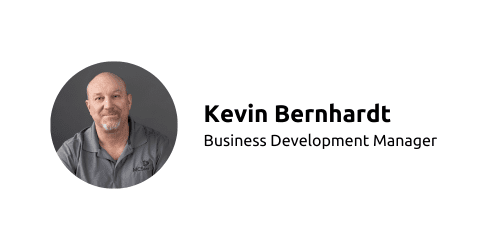 YAHOO, GOOGLE, OUTLOOK, OH MY! It can be a daunting task to decide which email service provider to choose. Like your physical home address, your email becomes an integral part of your life.
What is an email service provider?
An email service provider is any company that offers tools for users to send and receive emails through their web browser or a separate email application.
Picking the best email provider for you might be difficult, as there's a lot to consider. Once you have your high speed internet with MCSnet, the options for an email service provider are endless. In order to help you make this choice I took a look at some of the main providers out there. Of course Google Gmail, Outlook, and Yahoo Mail came immediately to mind and I've personally used each of them. But I found two I'd never heard of: Zoho Mail and Proton Mail. Zoho comes with an impressive office suite of programs and Proton provides you with a high level of security and confidentiality. Let's take a few minutes and dive into each of them.
Google Gmail
Gmail is an incredibly solid and free email service with more than a billion users worldwide. It comes with 15GB of data allowance, leading-edge anti-spam and phishing protection. It also comes with Google's other services: Chat, Meet, Calendar, Docs, and Drive. MCSnet uses this email service and it does the job very well for us.
It's easy to set up both on desktops and mobiles. Also one big Google plus is support for using a custom domain: yourname@yourcompany.com instead of yourname@gmail.com. Storage ranges from 30GB to 5TB, depending on your plan. Sending limits increase to 2,000 emails a day. It's good to see that Wordspace includes phone and email support.
Overall Gmail is a solid choice that this author enjoys using overall both at work and at home. One feature I don't enjoy is how Gmail defaults to keeping an email chain going in a single email document instead of making a new email for each reply. There is a way to opt out of this feature however if you'd rather have individual emails generated.
Outlook
Outlook is another gold standard email provider. It has significant free services and the ability to subscribe for even more. You receive a free 15GB Inbox, an extra 5GB OneDrive cloud storage, and access to the web and mobile versions of Word, Excel and PowerPoint. Also, there's the ability to add polls to your Outlook emails: an interesting feature for a small business owner.
Outlook is a bit more rigid than Google with fewer options to customize the layout. But if you're looking for functionality, it's all there right out of the box with a very intuitive setup that will have you feeling at home very quickly. One feature I really appreciate is the ability to easily use it to collect emails from other services. I know I've done this with my personal Gmail account. One of my past employers utilized Outlook and it's a very solid performer for both business and personal use.
If you need more than the free version then the $7 a month Microsoft 365 plan ($5.83 billed annually) gets you an ad-free inbox, 50GB mail storage and a vast 1TB OneDrive cloud storage. Extras include desktop versions of Word, Excel and PowerPoint for offline working, Microsoft Defender security for all your devices, Teams video calling, and more. A good deal overall.
Yahoo Mail
My oldest account is a Yahoo account and I've had it now for over 20 years. The service has seen a decline in use with all the new providers arriving on the scene but overall has stood the test of time. It still provides an excellent option for your email needs and is a polished and professional service which stands up well against the top competition.
Storage ranges from 1TB to 5TB and Yahoo's web app automatically sorts and groups your emails, giving you instant views of your attachments, mailing lists and more. Customizable notifications raise alerts for the emails you care about most, and if you like how this all works, you're able to add your Gmail, Outlook and other email accounts and access them from the same web app.
Demanding users might find issues over time and for a business it might seem a bit light in the features. Mail organization can't quite match the flexibility of Gmail and unlike Proton Mail or Outlook, there's no message encryption. Also on a personal note, it seems to me Yahoo is fairly susceptible to spamming emails but this could simply be due to the long amount of time (20+ years) I've been using the service. Overall, Yahoo Mail's free plan is an appealing service which deserves a place on your home email shortlist.
Yahoo also offers a paid Yahoo Mail Plus plan which drops the ads, raises the storage limit. and adds 24/7 phone and chat support. At only $5 a month it's not expensive, but Gmail and Outlook both offer top quality office apps and other valuable bonuses for only a dollar or two more.
Proton Mail
For those of you concerned about the privacy of your email, then there's no better service than this Swiss-based email service, Proton Mail. It offers exceptional privacy from the start providing end-to-end encryption along with optional password protection. This means there's no way anyone else can read your emails. It's the most secure free email provider we could find. It also has an "Importer" feature that has options to import your Gmail, Outlook, Yahoo and other inboxes. It's not geared to be free, however, and requires one of two levels of subscription to fully enjoy the service. For a business concerned about client confidentiality this might be a worthwhile investment.
The free version has limits that include only a single email address and a small inbox of only 500MB. There are also limitations on your organizational tools with limits on the number of folders and a small (150) number of emails per day. For a business this might be an issue. However, even a free account gets you access to the excellent unlimited data Proton VPN, secure scheduling via a single Proton Calendar, and Proton Drive's secure cloud storage (though beware, this uses the same 500MB as your inbox.)
If you do need more, Proton Mail's $5 a month Mail Plus account gives you 15GB storage, up to 10 email addresses, 20 calendars, support for one custom domain (you@yourdomain.com) and no limit on the messages you can send per day.
At the top of the range, the Proton Unlimited plan for $11.99 billed monthly includes 500GB storage, 15 email addresses, three custom domains, and unlimited folders, labels and filters. There's a huge bonus in the full version of Proton VPN, and if you don't need a 500GB inbox, you could also use Proton Drive's cloud storage to back up and sync your most important files. If you need the VPN, that's a very good deal. But if you're not so sure, keep in mind that Microsoft and Google offer business email, office apps and 1-2TB of storage from around $6 a month (see below.)
Zoho Mail
Our last entry into our top five is Zoho Mail. It doesn't have a free version, but Zoho Mail Lite is remarkably affordable at $12 a year (billed annually). It has IMAP and POP support for easy access from other email clients. It can encrypt and password-protect confidential information for extra security; syncs emails, contacts and calendar details across all your devices; supports sending 250MB attachments (via links); and allows you to use multiple custom domains.
A $48-a-year Mail Premium plan extends the service with a 50GB inbox, digital signature and encryption tools, email archiving and more. But what's more interesting is Zoho's Workplace, an online office suite which includes Zoho Mail, a word processor, spreadsheet, presentation app, chat, meeting and assorted collaboration tools. There's real enterprise power here, but Workplace is also significantly cheaper than Microsoft 365, Google Workspace and more, with prices starting at just $3 a month billed annually. Well worth a closer look for business or more demanding users on a budget.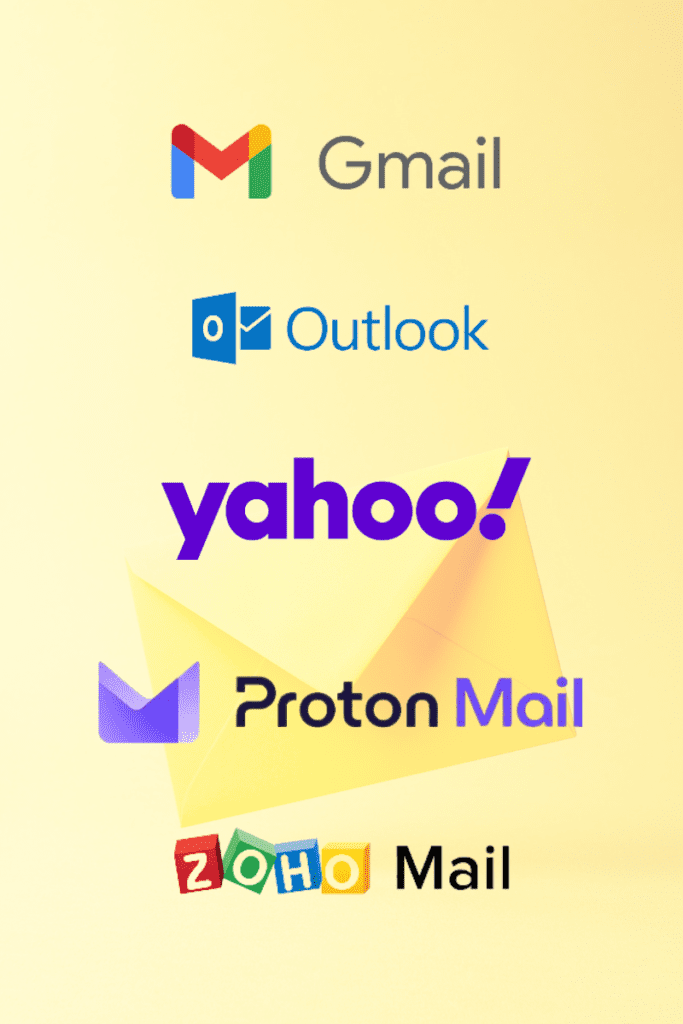 So there you have it, my list of some of the top email providers out there. If you're concerned with security, then Proton Mail might be your go-to choice. Zoho has some very affordable office suite programs but requires a subscription, though it's quite affordable. If you like to stay with the big three then consider Google Gmail, Outlook, or Yahoo Mail. In the end choose the provider that works best for you. Take some time to think it through and ask your family and friends which one they use and get some feedback from people you know and trust. Happy emailing!